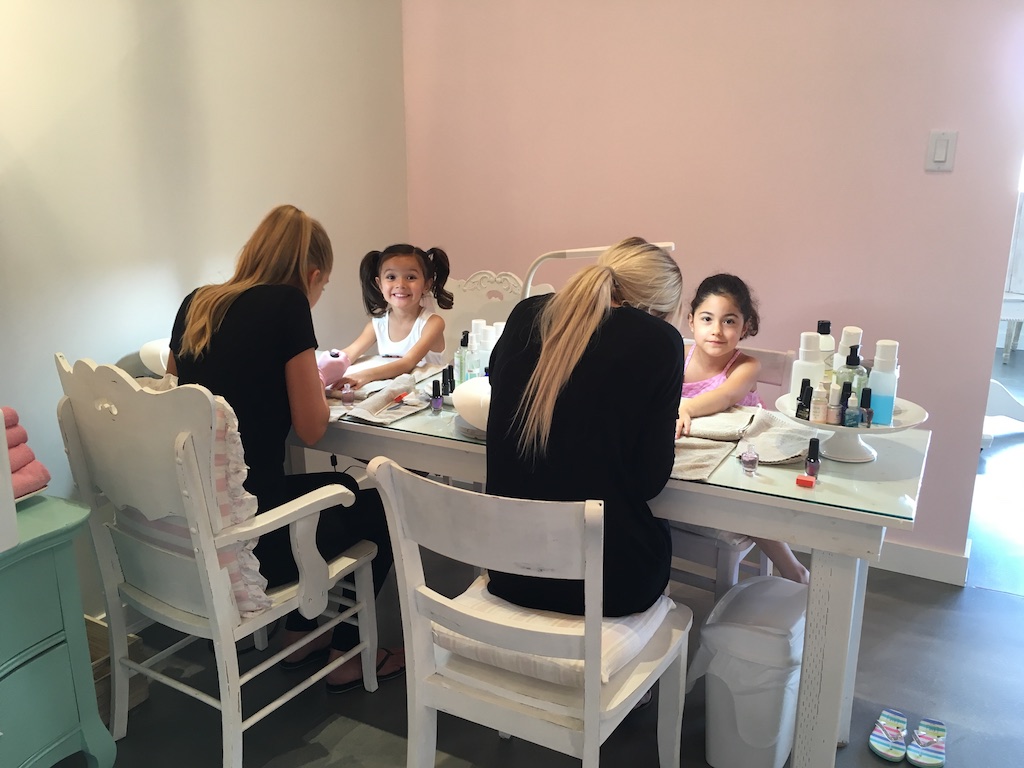 The end of June brought the end of school and 'graduation' for many children. If you read my last blog post, "Preschool graduation? Isn't that a little silly?" then you have probably guessed that we didn't plan a big celebration, gifts, or anything of that sort for our twins.
Darren took a couple of hours off of work, over lunch, and made the trek back to the suburbs from downtown Calgary to see their year-end show. I thought that was pretty awesome! Darren is always talking about how busy he is at the office, so I kind of felt that his 'time' was a bit of a gift in itself.
BUT…the kids are good friends with another set of boy/girl twins, Cam and Abby…and their mom is maybe a little more fun than me. Ange is a pretty fun, thoughtful, attentive and loving mom. She is the kind of mom who might ask her kids what they would like to do to celebrate their Kindergarten year. ☺
Cam said he wanted to head to Fun 'N More, with Gray, and Abby wanted to get pedicures with Miss A.
So…this worked out pretty nicely for my duo, didn't it?
We planned a date. The dads took the boys on their excursion and we hear they had a great time. Sadly there are no photos for me to share with you, because, well…like many moms, I am the 'photo-taker' in our house (now you know why all the photos you see of me are selfies!).
Ange and I took the girls for a little Starbucks visit and snack (which was mostly for 'our' benefit) followed by a trip to Frilly Lilly in Shawnessy for the girls' little mini manicures and pedicures.  I have to say, it was pretty adorable to see!
Miss A and Abby getting their fingernails painted
There is some serious 5-year old pampering happening here!
I have to say a huge, 'thank you', to the owner of this shop, Rayelene, who was really accommodating and great to us and the girls. She fit the girls in 'same day' on a Saturday, which I know was a tall order AND the girls experienced star treatment and a few surprises.
The girls loved selecting their nail polish colours and they were super lucky to get to take home their polish, which was beautifully wrapped up for them. To top it off, when Miss A needed a little 'touch up' on her toe, she wasn't made to feel guilty or badly – it was just done without hesitation.
Who doesn't love a beautifully wrapped item?  The girls loved carrying these out!
When everything was said and done, the boutique owner offered the girls a little 'surprise'. I don't think she does this all of the time, but her son had outgrown his Shopkins collection so she let the girls each select one to take home with them. This was so perfect, and fitting, since the girls had 'just' spent our time at Starbuck, having a little Shopkins swap and trade!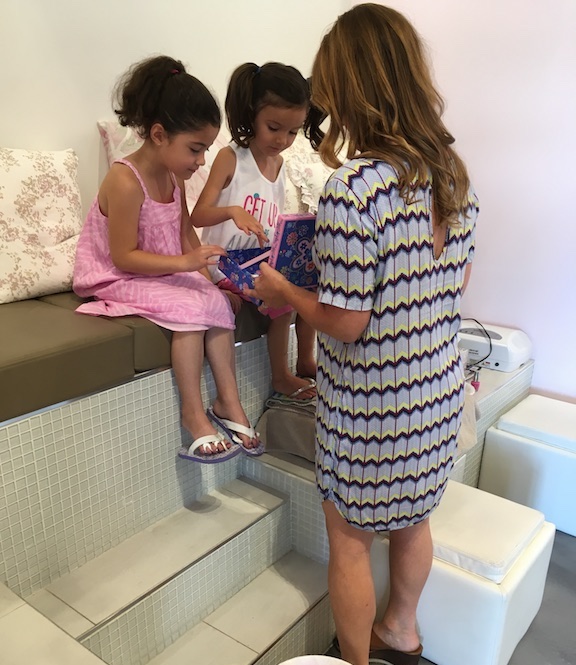 Selecting a special treasure while their little toes dry.
Over all, it was a really great afternoon for everyone! I'm not sure we will be celebrating the end of the school year with a treat like this every year but, I have to admit, it was nice giving them a little indulgence for 'this' year.
Happy preschool graduation, Gray and Miss A! …And you too, Cam and Abby! Thanks for requesting our twins join you on your celebrations!
Of course they had matching little girl mani's – just the sweetest!