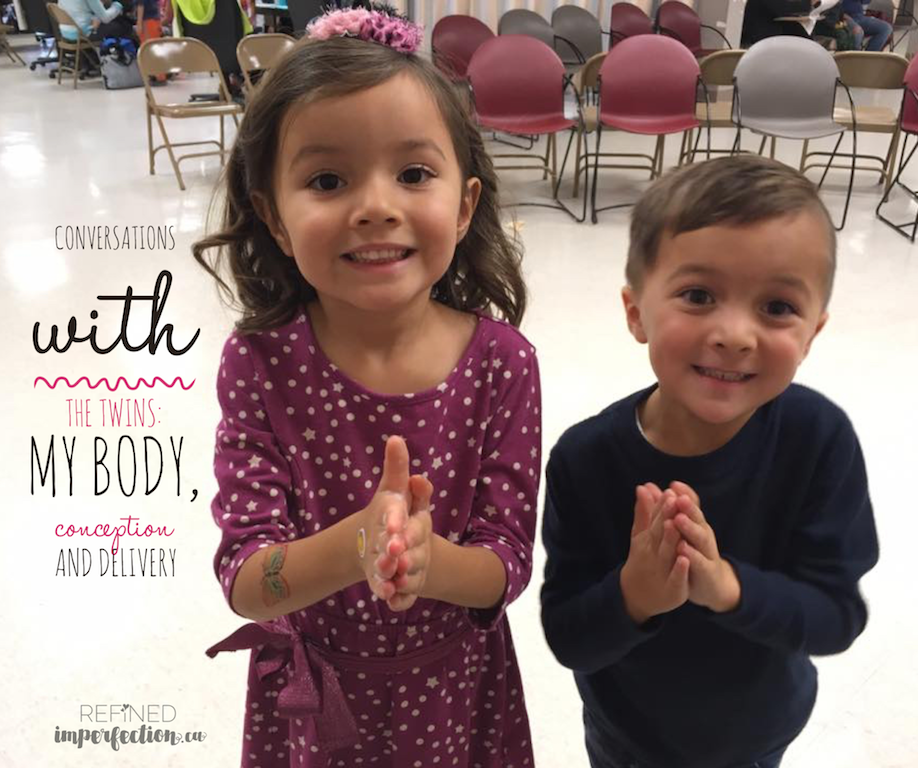 Now that the twins are five years old, they are more curious than ever. They are forever asking us in-depth questions about 'ANYTHING' and 'EVERYTHING'.
Lately, I have been fielding a tonne of questions from them about my body, their conception, delivery and even about death. It has been a confusing, funny, and scary journey trying to navigate what information is age appropriate for them yet will still satisfy their curiosity.
Here is a recent question I got from Miss A:
Miss A: "Mommy, did I hatch out of an egg in your tummy?"
Me: "Ummm….can we talk about this later?"
Miss A: "Okay."
Insert panic! Wow. I was not really prepared for that and I was totally unsure about how to answer it. So, I didn't. I basically just put it off hoping she would forget about it.
Of course, she did not.
When she asked me again, a few days later, I told her I would like to talk about it in a few days after a special book arrived that would help me explain it. She agreed this would be okay and I hurriedly ordered a book that a psychologist at the Calgary Regional Fertility Program had recommended to us at one of our appointments. I remember she had suggested that when time came, we should be honest with the twins about their conception to avoid mis-trust in the future. So, I hopped online and ordered up her recommendation, a book called, 'I loVe my Family'.  See the 'IVF' in there?  This is a book about assisted conception for young children.
The book arrived and we read it…it very 'lightly' touched on the subject but I think it was still a bit confusing for the kids. Well, obviously Miss A was still confused because a couple of days after that…
Miss A: "Mommy, I know I hatched out of an egg in your tummy, but you didn't tell me how I got out."
Jesus.
Okay, so now there were two problems. First of all, she thinks she hatched out of an egg in my tummy. Second of all, she wants to know how she got out.
Why me??  I'm not ready for this!
But wait, it got better…
Miss A: "…Oh! I know! I must have come out of your mouth!"
Pretty much I was totally dying at this point. Panicked, confused, my heart was literally racing. …but, I just couldn't let it continue so, I semi-blurted out to her, "You came out of my vagina!".
(Insert a very long pause)
Miss A: "Did I come out of your bum?"
Me: "No, you did not come out of my bum. You came out of my vagina."
Miss A: "Oh." (insert another long pause) "I would like to see that sometime."
…and thank the heavens above, the conversation ended there.  For now.
---
Now Gray, on the other hand, has been very curious about my body.
Right or wrong, I set the kids up with something to play with in the bathroom with me when I'm having a shower, so they do still see me getting ready for my day. Is five-years-old too old for that? I feel like we are on the cusp of needing to be more mindful of not being clothes-less in front of our opposite gendered kids…but I still feel like they should be supervised while I'm in the shower so, you can see the dilemma.
The other day I had just gotten out of the shower…
Gray: "Mommy, why do you have lines on your bum?"
Me: "Because my bum grew to fast at one time."
Gray: "Is that what happened to your tummy, too?"
Me: "Yes."
Gray: "Is that what happened to your breast?"
Me: (chuckling) "No, that definitely didn't happen to my breast."
Gray: (reaches up and 'pokes' my breast with one finger) "Then why is it falling down?"
Ha!!!!
…And there you have it! I'm not saying that these are the 'right' conversations; they are just the 'real' conversations.
If you happen to have come across a book you think would be perfect for us, please let me know! I'm obviously in need of some help here!