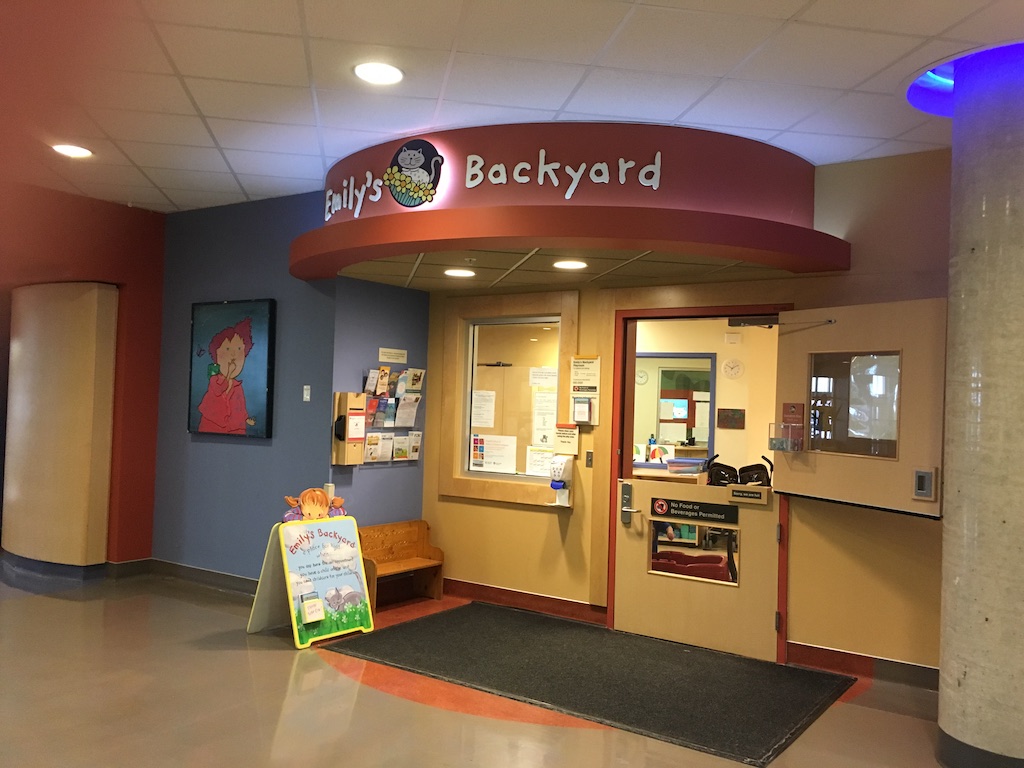 Is one of your children staying at, or visiting, the Alberta Children's Hospital?
If so, have you heard of Emily's Backyard?
If you haven't, this blog post is definitely for you!
We have been visiting the Alberta Children's Hospital (ACH) since the twins were born. We have mainly been there for clinic visits plus, one unfortunate trip to the emergency room, when Gray was accidentally burned on our gas fireplace.
Each visit we had to ACH, we either had one parent stay home with the non-visiting child or we tried our best to arrange childcare. Usually, after months of waiting to get in to see a specialist, I like to be focused on the appointments and not distracted by the extra parenting efforts that we are required with additional children. You know how it goes…
"Please don't touch that, it's not a toy."
"No, you can't climb on there."
"Please get off the floor, it's yucky."
"Stop poking your sister."
Having only the 'patient-child' in the appointment allows me focus on actually 'hearing' what is said and maybe taking a few notes with my phone. I also find that I have a reduced chance of forgetting to ask the questions I wanted to ask (or…like I mentioned earlier, actually 'hearing' and 'retaining' what the answers are).
If you have visited the hospital, for any reason, you have probably walked by it. It is a colourful play area, seen through windows, right as you enter the hospital. The name of it is posted above the doors (there is a second location on the second level of the hospital as well).
So, here it is…in case you aren't aware (like I wasn't)…it is a short-term childcare option available if you have a child staying in the hospital, or visiting a clinic.
And are you ready for this?
IT IS FREE!!!
What??? Why didn't anyone mention this to us when we booked our clinic appointments? Man…if only I had known about this sooner. For some reason, it didn't even occur to me that this was a service available to us. Don't ask me what I thought it was for…or who it was for…but it just never occurred to me.
Anyhow, after 5 years of visiting ACH, I had a brainchild to check into it when Miss A had her most recent clinic visit just last month. I can't believe how easy, and convenient, it was to book our son in.
If you are wondering how Emily's Backyard works, here is some info you might find helpful:
-Emily's Backyard is intended for patients, or siblings of patients, who are staying at (or visiting) the hospital
-This amazing service is free!
-Emily's Backyard is suitable for children who are as young as infants and as old as early teens
-You cannot stay in Emily's Backyard if you have any of the following symptoms: rash, cough, fever, runny nose, diarrhea, or nausea/vomiting
-There are a variety of activities available for kids to do…from toys to games to crafting
-There is a maximum time limit a child can be left at Emily's Backyard (at the time of writing this, the maximum is 1.5 hours)
-Emily's Backyard is operated by both staff and volunteers
-It is best to pre-register your child (which you can do up to two-weeks in advance), but they will work to accommodate drop-in if they can.
That's it!
I booked the service by submitting an email (you can call or email) and I had a response the very next day…and it was good news…they had space!  A part of me was expecting to have to be put on a waitlist or something of that nature, but that was not the case at all.
I will also say that the environment was very welcoming and Gray didn't have any troubles being dropped off at all.  He was playing happily when I came to pick him up after Miss A's appointment.   In fact, the hardest part was trying to explain to Miss A why she couldn't also visit.  They sent us off with a sticker for 'both' kids which I thought was a nice touch.  It also worked as a distraction for Miss A's disappointment of seeing this fun place but not being able to stay and play.  Awesome!
Like I said earlier…I am a little disappointed and surprised that this fantastic service wasn't mentioned in the past, when we have booked our appointments there…but now we know and we are so happy that we do!
If you are interested in more information, on Emily's Backyard, you can get more information here.
Hopefully this post finds you ahead of any visits you might have with your littles there. If you have any additional thoughts or suggestions about Emily's Backyard, please feel free to comment below.
Grayson playing when I came to pick him up from Emily's Backyard