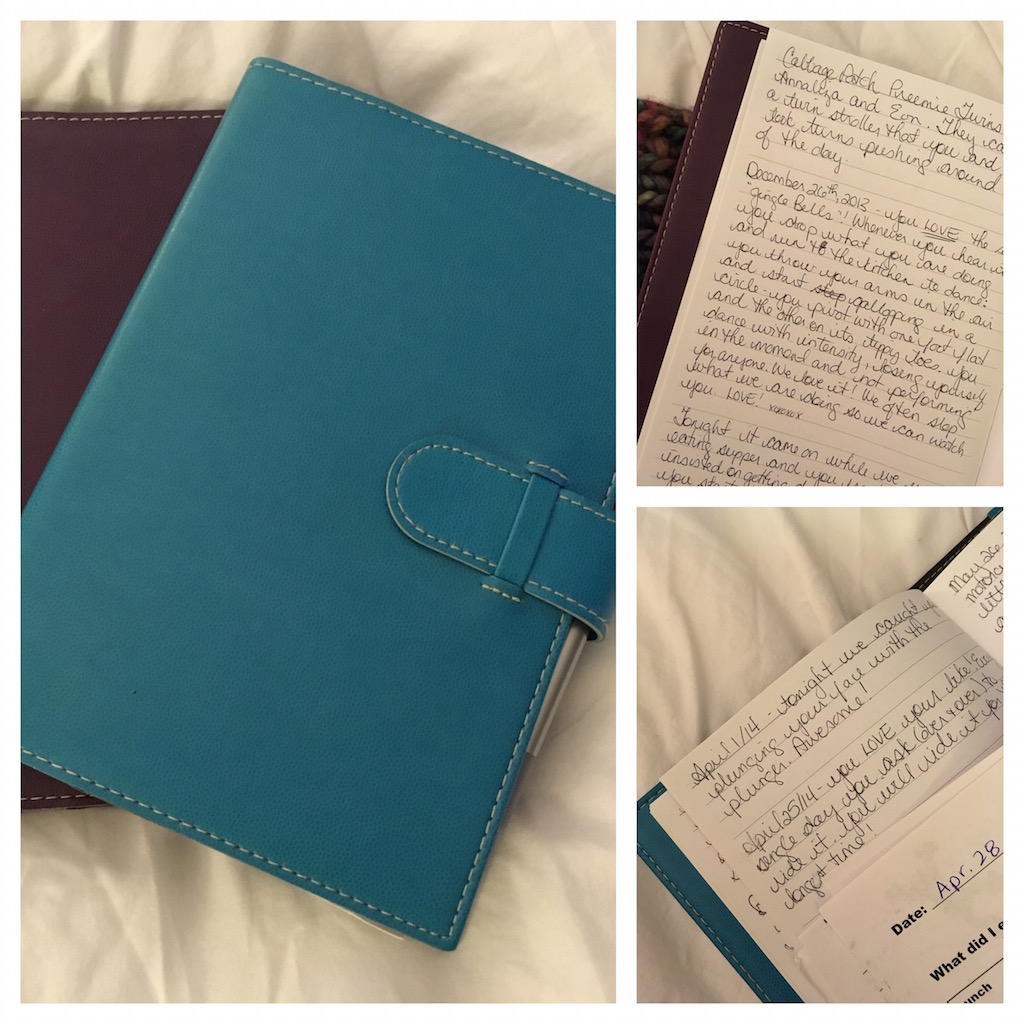 I am a very sentimental person and I love preserving memories! I always have.
I photograph often, I keep special items (even if they are in a box in my basement), and I did buy and (mostly) fill out baby books for the twins. I'm just that kind of a person.
But, as the twins moved away from their first year, there were so many moments that brought us joy and I didn't want to forget them. So, I decided to buy them each journals. I just found some nice, good quality ones that I thought would stand the test of time from our local Chapters/Indigo bookstore. In them, I record anything at all that I don't want to forget or that I think the kids will enjoy learning about themselves later.
Here are some examples of things that I have recorded for them:
The first time the twins gave each other a kiss
The funny ways they used to put sentences together and the sweet ways they said certain words (for example, Miss A used to call Gray 'Gay-Gay')
The day they scored their first soccer goal in Timbits Soccer
That time I found Gray plunging his own face with a plunger (Yes, that happened…for real!)
The time Miss A put her own self in a time out after doing something naughty
I also staple in small paper memories that don't take up much room in their journals. Little things like my favourite day home reports that we received or Gray's gymnastics report card where he was praised for having such good listening and being a role model for classmates. Pretty much anything that makes us smile!
I know being a parent is extremely busy and little things like this can get lost in the shuffle. The one thing that really helps me stay on top of keeping the journals current is simply keeping them on my bedside table, along with a pen, so I can add a few quick notes before bed. I also store little notes in my phone if something comes up while we are away from the house that I want to remember – those get added at bedtime also.
After sharing that I do this with one of my friends, another mom of twins, I could tell she really liked the idea. So, we actually gifted her twins with their own journals on their birthday, so they could have their own collection of memories started. I know that at 5-years old they might have not put that at the top of their 'favourite gifts' list, but hopefully down the road they will be happy to have those keepsakes.
I know their mama will anyway!