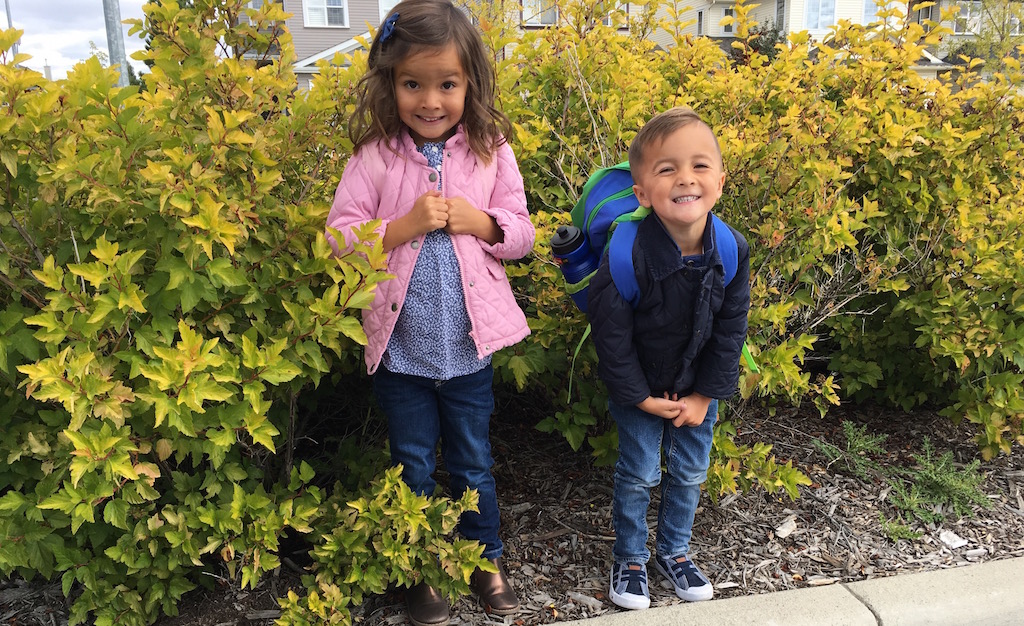 Okay, I know that using the word 'mourning' is probably dramatic – perhaps 'heart broken' would be better?
Either way, my heart is aching a little.
I know that I'm not the first parent to send my first born to preschool…but I suppose it is 'my' first time sending my first (and last) born to 'school'.   Is this how it is going to feel every time they reach a new educational milestone? Ugh.
Maybe I'm a little sad because this means my 'babies' aren't babies anymore?
Or maybe it's because this is a big step that somehow feels like my time as a full-time mommy is changing? Am I ready for that?
Or perhaps it's because I'm not sure preschool is really the right choice for our family. Should we be allocating this time and money to other activities that the kids have been asking for? After all, they do already have 13 years of school ahead of them. Is preschool even necessary?
I don't know. But what I do know is that I'm feeling a little down about the whole thing.
Of course Gray and A were excited and happy to start their first day yesterday. After all, our family has been talking about preschool quite a bit over the summer and all of us (including me) have had plenty of time to prepare ourselves.
When I dropped them off, I gave them both a kiss and told them I love them and they started to settle into their new routine right away. Out of the corner of my eye, I could see one of my close friends watching me (he was dropping off his 3rd of 4 children…who is entering his second year of preschool…so this is totally old news to him). He commented to me that he was just realizing that this is my first school drop off and instantly my eyes began to water. Thankfully it ended there and I was able to keep it together, but friends…it wasn't easy. I could have easily sat down and had a good cry.
For now, I'm going to keep my chin up! I mean really…what else can I do? I'm sure over time I will get over this feeling and I will start to embrace having a few extra hours to have a little break (and by 'break' I mean childless grocery shopping before 8pm – OR – a trip to the motor vehicle registry without having to use the words 'stop', 'no', or 'don't' – over and over and over…).
I do want to share with you something that I tried yesterday that helped me feel a little better: As soon as the kids were done their first class, I took them straight to our local Starbucks so we could enjoy steamed milk together. I put away my phone and I gave them my totally undivided attention while I invited them to share with me the details their big day! Of course, as they shared all of the exciting things they did, I couldn't help but feel the contagiousness of their joy and excitement!
Hearing them tell it all over again to their dad, during suppertime, helped too!  …and, perhaps, so did the glass of wine that went along with it!