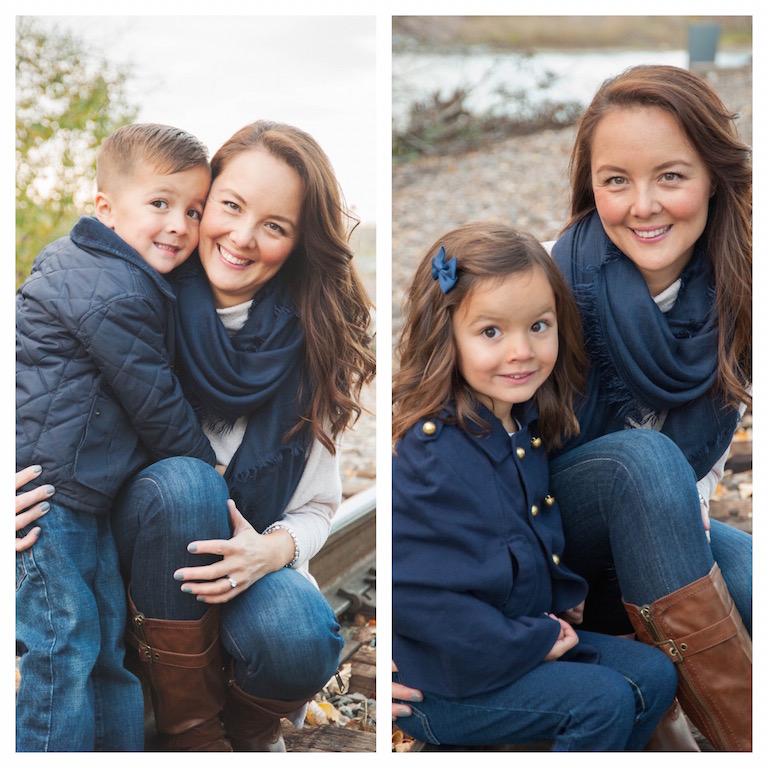 (edited) Images by Larissa G Photography (www.larissagphotography.com)
One of the hardest struggles of having twins, is trying to get in one on one time with each of them – and any amount of it!
I mean, essentially they have had the same sleep schedule since birth so it's not like I could sneak in quality time with one child while the other napped. And…until the last year or so, they have done most of their activities together, so we haven't had much opportunity to bond during those times either.
On top of those obstacles, almost all of the time, I am out-numbered!
I remember feeling so guilty when Gray and A were newborns because it seemed there was rarely an opportunity to just enjoy a quiet snuggle with one baby – this was something I felt so envious about when we spent time with other moms who had singletons. This is literally what my schedule looked like every 3-hours when I was establishing breast-feeding (because the twins were preemies and tiny, I was discouraged from exclusively nursing at the start in case they burned more calories than they took in – it was totally nuts!!):
Nurse baby A
Burp baby A
Top up baby A with bottle of formula
Burp baby A
Nurse baby B
Burp baby B
Top up baby B bottle of formula
Burp baby B
Pump with Breast pump
Change diaper of baby A
Change diaper of Baby B
Sterilize bottles (My bad, I hadn't bought enough)
Eat, sleep, shower and do anything else that needs to be done before the 3-hour window is up (but probably get to none of it)
It was total insanity!!!!
Thankfully that only lasted for the first 3-weeks before we got the go ahead to drop the bottle-feeding and blow up that dreaded milking machine known as a breast pump…but still, that didn't drastically change the process. And once my husband went back to work, I was all alone to manage it myself. I can't even tell you how many times I bounced one twin in the bouncy chair (with my foot) while I nursed the other child. That really happened! All. Of. The. Time.
Side note for expecting parents of multiples: Get yourself a bouncy chair for crying out loud!!!
Thankfully, that phase is history, and now that the kids are four-years old it's not quite 'so' nuts…so, I really feel like Darren and I both need to make a bigger effort to have more one on one time with each of our children.
After I wrote my blog post last month 'Keeping the Marriage Alive – One Date at a Time!', I had a brain-child that maybe we should do the same thing with our kids – perhaps a one-date-per-month-per-child kind of thing?
When I suggested it to my husband, he looked totally deflated! Not because he doesn't see the value in it, but because I'm sure he was wondering:
Do we have enough time for that? Our weekends already seem to get so busy with activities, birthdays, etc.
How much money are we going to be spending on our endless dates each month?
Why does my wife like routines so much? (I added that for 'your' benefit, Darren!)  🙂
Okay, so he was probably right – it's probably not necessary to make this a formal thing, and for now, we won't.
So, I am now trying to be mindful to catch those little moments when I can. Darren has taken Grayson out skating (outside of lessons) a few times in the last month and I stole some time with Miss A over the weekend while her brother was watching Netflix upstairs with his dad (No, Darren, I don't think that quite counts! Lol).
Before Gray came down for the day, Miss A and I quietly got to work and baked some muffins for the family for breakfast. Miss A was so happy to help without the struggle of competing with her brother, which usually looks like this:  Who's turn is it to pour in the next ingredient? Who's pushing who off of the stool?  Who gets to stir first?
Miss A even took great joy in helping me set up the table and wash the dishes!  What a nice treat that was!
I know it wasn't a fancy date out to a play place, or the mall, or swimming…but it was an hour of time that her and I had together and I think that's what is important. Although we aren't making this a formal 'thing' in our house, I know that each little step towards focusing on our family is going to make us stronger and happier in the end.