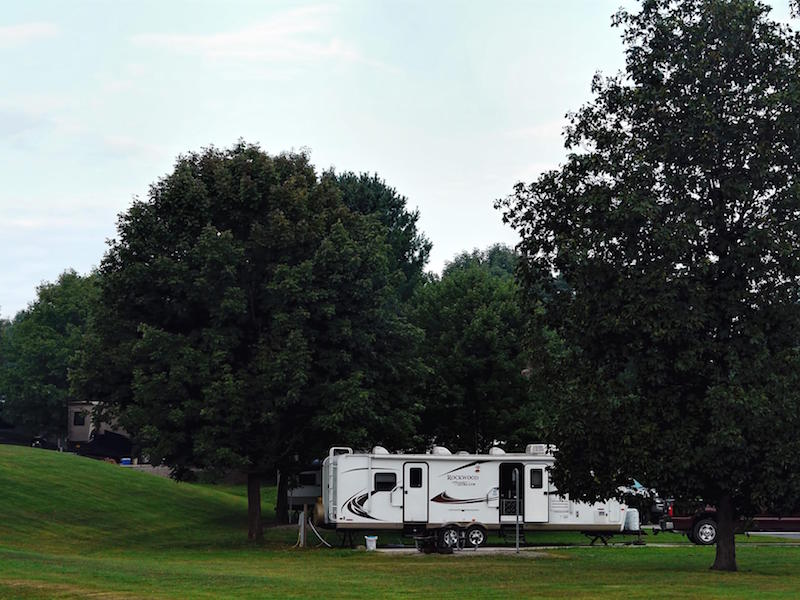 Photo credit: Natureworks – Morguefile.com
I touched a little bit on the fact that I started making an RV Wishlist in my blog post Glamping – How We Got Started and I thought it might be helpful to share it with you.  So…here it is…
Our Family's RV Options Wishlist
Multiple lower sleep options for the kids
You can get bed rails for upper bunks, but we didn't want the kids (who at the time were only 3 years old) falling down the ladder or stepping onto the other child when trying to get down in the middle of the night for a bathroom break.
Power awning
My poor husband got into a losing battle while trying to bring in the manual awning on our rental. He didn't have much to add to this list, but power awning was a must-have for him.
Outdoor kitchen
When food gets cooked outside, it means there is less mess inside the trailer for me to clean up AND more cooking help from my husband who seams to be more interested in taking on cooking if it's outdoors. So, basically everyone wins here! Or…on second thought…'mom win'!
Bathtub
It was so nice to be able to give our kids a good soak at the end of a full day of being outside all day (which is basically every day). Hot water tanks on RV's tend to be pretty small and showers need to be fast and furious…not ideal for trying to clean up extra dirty tiny humans).
Accordion door/Curtain at kids' sleeping area
We still planned to keep a bedtime routine and I felt strongly this would help. They don't do much to block sound, but they do block some light. Also, I believed it made a big difference that the kids weren't able to 'see' us sitting at the table eating snacks and playing cards. I'm pretty sure if they were laying in bed just watching us have our 'adult time', it would have ended with them at the table too (and me probably hiding in the tiny bathroom to catch a break).
TV/ TV outlet
Sometimes it rains, so having the option to pop a dvd in on a rainy day is really nice! We took out some dvd's with us from our collection. It was also nice to put those to use since they haven't been touched since the era of PVR's and Netflix.
Power slides
Remember when I mentioned earlier to you my MIL (Mother-in-Law) calls me, 'citified'?
Air conditioning
While I like the heat, my husband doesn't like it as much. It also helps you to not melt the food in your pantry (trust me, plenty of food items get crammed into the pantry since RV refrigerators are very, very small).
Outdoor tap
It's really nice to have something to spray off dirty children and outside toys, or to fill up a bucket of water for putting out your fire pit, etc.  Sometimes you can get a little extension-type hose for your outdoor kitchen tap. Some RV's also have an actual outdoor shower-type spray with both hot and cold. Either way, it's really nice to have.
Outdoor-accessed storage
Storage that can be accessed from outside – because who wants to haul their outside stuff inside to put it away?
Bonus RV Wishlist Items:
Outdoor speakers
Because who doesn't love listening to great music outside?  It's probably going to be where you're spending most of your time, after all.
Bluetooth
Listening to music is even better when it comes from your device…because it's going to be the stuff you love!
**I should note a special thanks to my friends, Liane & Ericka, for helping me round off this list**
PS In case you're interested to know, in the end, we settled on a Venture RV Sport Trek ST312VBHK.  We love it, so far, and know it will accommodate our family for years to come!