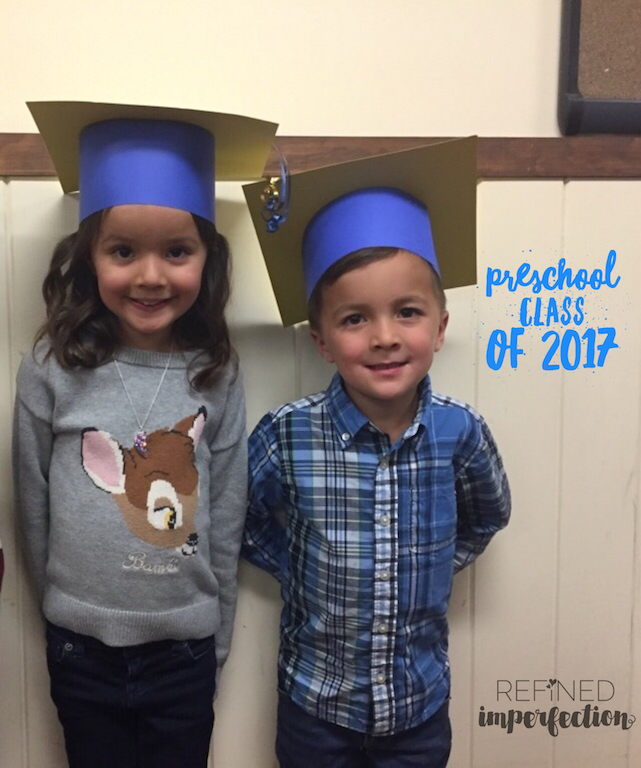 Gray and Miss A on the last day of preschool
Preschool Graduation? Isn't that a little silly?
That's the kind of thing I would have said before I had kids.
And listen…when the twins 'graduated from preschool' last week, there was a small part of me that felt a tiny bit silly hearing 'congratulations' from the other parents in the class.  I mean…it does sound sort of funny. Congratulations for what? You can still play with sand? You get an A+ for managing to get through snack time?
The truth is, completing preschool (especially completing the truly stand up program we were lucky enough to find) is a celebration of many things that really 'are' accomplishments.
It's definitely not about the 'snacks' or the 'sand'.
What is really is about is the personal growth and development that a young child sees over the span of September through June.
Some of you may remember my first posts about preschool from the very beginning of the school year – My Twins Started Preschool and I'm Mourning, and also, My Twins Started Preschool – Update.  We have really come so far since then!
And by 'we', I mean 'me'. I was the one who felt a little sad about preschool.  The twins had started other un-parented programs by then, which I think really helped relieve any apprehension they might have had otherwise. Gray and Miss A were excited to start preschool!
Attending and completing preschool was a year where the twins were building their character qualities, learning and, even, discovering important life lessons!
For our family, and our kids, preschool meant…
-Creating a schedule and following through with it.
-Working together to be on time (like the time Gray had to blow dry Miss A's hair for mommy!).
-Building confidence and breaking through some shyness (Miss A).
-Developing new friendships (that kind that are authentically created, not only created because mom and dad are friends with their mom and dad).
-Learning numbers, letters, the world around us, and all of that wonderful stuff!
-Learning how to be inquisitive and imaginative in appropriate ways.
-Meeting people who are very 'different' from us, and learning that 'different' is 'okay' and can be embraced!
Those are the best, and most important things, we are celebrating when we are at preschool graduation!
Academically, the twins have learned so much and that was really exciting for us to see throughout the year! They participated in activities and learned about things that never would have been on my radar had I kept them at home with me.
Gray's spring report card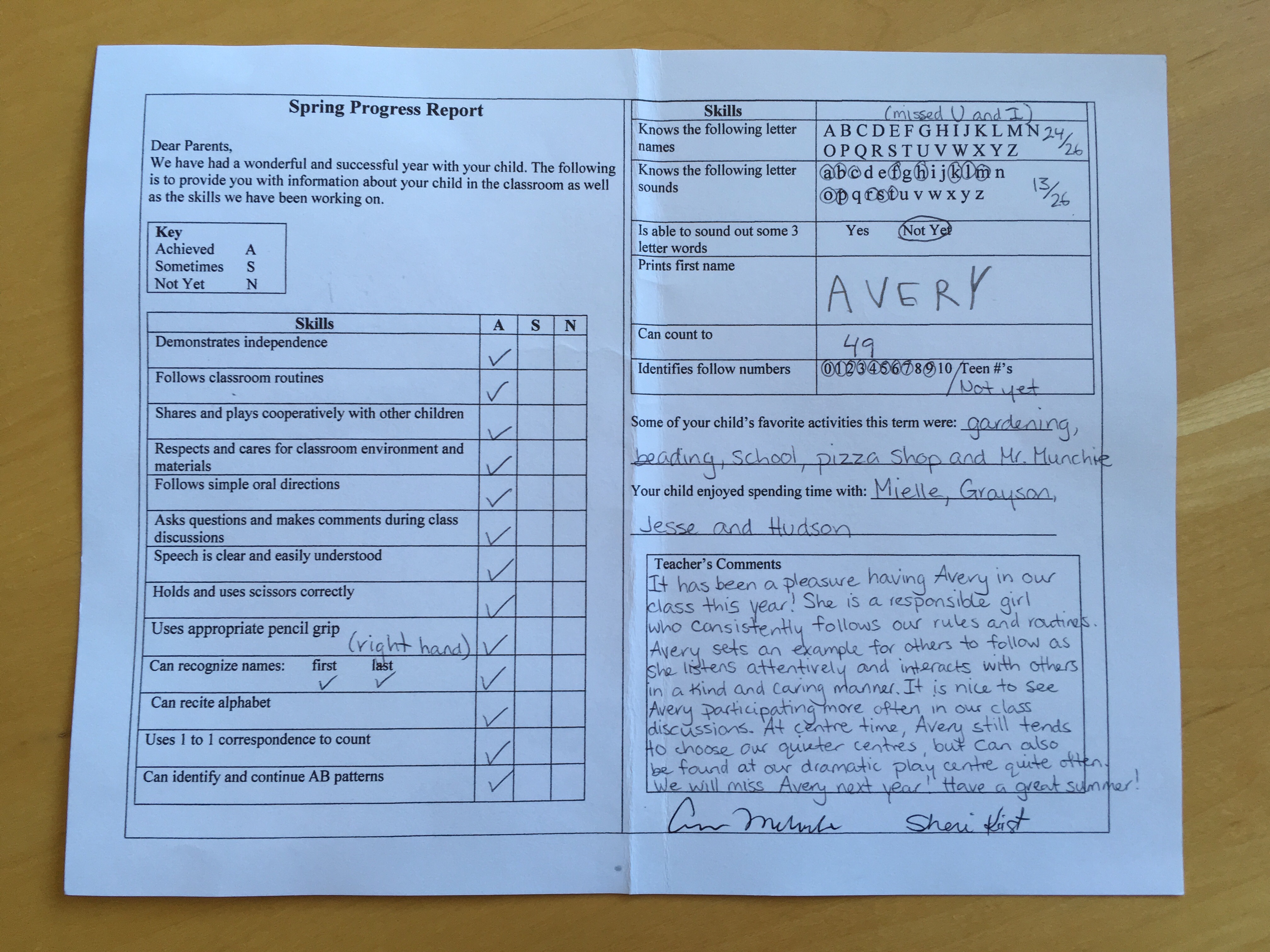 Miss A's spring report card
So…that's it in a nutshell! Now you (and I) both know why we celebrate a preschool graduation. Yes…I admit to you childless adults…it a little, teeny-tiny bit over the top.  But…when you become a parent, you will understand the pride you feel as a parent seeing your child grow and develop the way they do when they are two or three or four-years old.
So…
CONGRATULATIONS Gray and Miss A!
We love you and we are SO very proud of you!
Mommy
xo
Miss Ann, Gray and Miss Sheri
Miss Ann, Miss A, and Miss Sheri
Miss Ann, Gray, Miss A and Miss Sheri
Thanks to the teachers for suggesting to take this last photo with both kids.  It's the kind of photo a twin parent really appreciates and I would have forgotten to do that in this moment!
PS In case you are searching for a truly amazing preschool program for your littles (in south east Calgary), I'm going to offer a little plug for the Bright Stars Preschool Program. I am 'that' thankful and happy with them!
The kids attended a truly amazing preschool with exceptional teachers who took a lot of time to plan a great program. The classroom play centres changed every single class. There were also stories, rhymes and songs every class and they also brought home a high-quality craft…yep, you got it…also every class.
We had so many amazing crafts in our house, I was compelled to create a special art wall to display it all!
The teachers also took the time to make sure a variety of important skills were touched on each day: Language, math, fine motor, gross motor and sensory.  Here is a copy of one of our weekly updates we received via email…they are the real deal!
Our Week at a Glance week 35 page 1

Our Week at a Glance week 35 page 2

Can you believe it?? I'm amazed at how much they were able to cover in two and a half hours!
A big huge thanks to the twins' teachers, Miss Ann and Miss Sheri – your reputation precedes you and you didn't disappoint!