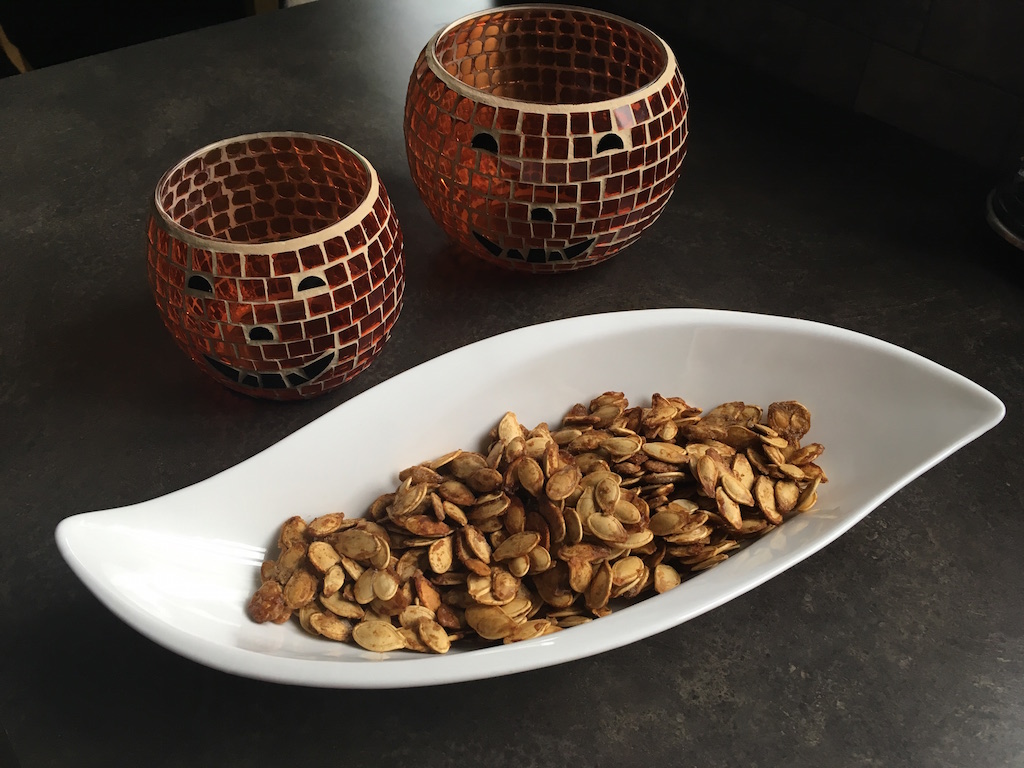 This is definitely not a food blog. However, it 'IS' a mommy blog and that means I need fast and simple tricks that make my life easier but still present nicely (because who has time for 'fuss' anymore?). So, here we are.
Every year I roast the pumpkin seeds out of our carved pumpkins but I had never found quite the perfect recipe. Last year I even split my seeds and tried two different recipes…a sweet one and a savoury one. They were 'okay' but not good enough for me to even bother pinning…the search continued.
Last night, after jumping on the AllRecipes.com website, I found one that was rated high and sounded good. After reading some of the comments, I decided how I would modify it and I gave it go.
They turned out great!
As a bonus, I somehow found a crowd-pleaser that hit every palette in our household: Whoot! This is a total win for our family…no rejection? Impossible, right?
So, these aren't gourmet, but you likely have all of the ingredients on-hand and they are very easy to make. As I mentioned, the fact that our whole family enjoyed them, means the recipe is worthy of remembering and keeping – you can bet they will be catalogued on my Pinterest board of 'Recipes – Tried and True'!
Simple Savoury Roasted Pumpkin Seeds
2 cups raw, whole (cleaned) pumpkin seeds 
2 tablespoons Worcestershire sauce
1 ½ tablespoons olive oil
1 teaspoon of salt
½ teaspoon garlic powder
Preheat oven to 275 degrees F (135 degrees C)
Combine all of the ingredients, except the pumpkin seeds, in a bowl
Add pumpkin seeds and stir
Place on a parchment-paper-lined cookie sheet
Bake for 1 hour, stirring occasionally
That's it!
If you want to save this for later, there is a handy-dandy Pinterest social media icon conveniently placed at the end of this post.
In case you're also interested in the original recipe, I should give credit where credit is due…voila…Spiced Pumpkin Seeds.
If you happen to make these with a modification you feel improves the recipe, I would love to hear from you!