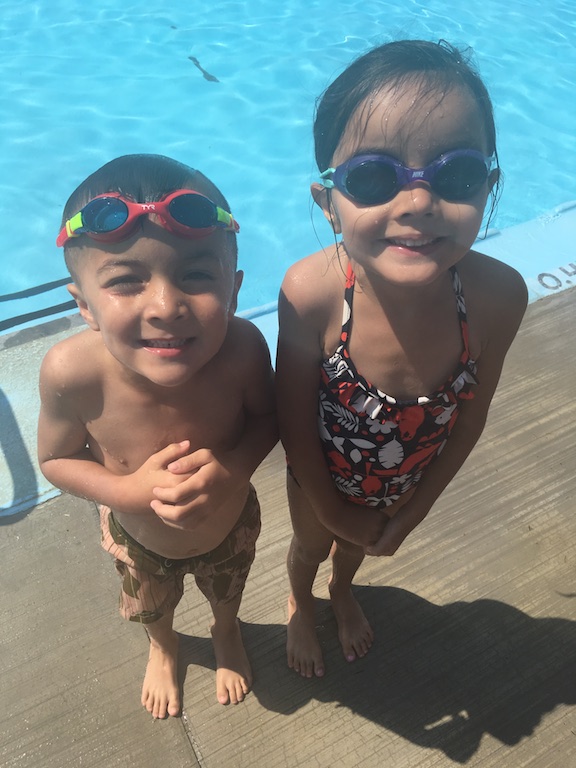 Let me start off by saying that taking the kids to swimming lessons, has historically been, one of my least favourite things to do as a parent. It's really is just not my thing. Ask my girlfriends – I grumble about it every time the kids are registered.
…AND…for a whole laundry list of reasons, I ESPECIALLY detest taking the twins to swimming lessons in the wintertime!
Last summer, though, a very smart mom-friend of mine (Rachelle, I'm talking about you!) told me about how she hired a swim instructor to give private lessons to her trio of boys on one of her summer vacations.  They arranged for the lessons to be done at the local outdoor pool where, she was holidaying, and she seemed really happy with her experience!
I was so amazed at what a smart idea it was! It just made so much sense! She was able to book it last minute, got a pretty reasonable price (if memory serves me it was a 'cash' sort of arrangement), and her boys got to practice their skills plenty since…well, they were on holidays!
(Also, can I just take a moment to say that she didn't have to deal with the aggravation of swimming lessons in the winter time…yucky/dirty/muddy change rooms, everyone's hair needing to get dried before leaving, everyone is freezing cold inside and out, winter gear getting dropped on the wet floor…I could go on! Yuck!).
Did I mention I'm not a fan of winter swimming lessons?
Coincidentally, when Rachelle and I had the conversation, we were actually in the middle of a camping holiday and I decided I was going to look into lessons, near where were camping, right away.
Jackpot! There were lessons being offered at the hot springs pool close to where we were and I was able to get them into a class within days of contacting the organizer (a contrast the waitlists I have had to go on, in the city, for not registering on opening day). On top of that, there were only a couple of other kids in the class AND the price was reasonable!
The kids ended up really enjoying the lesson. The 'tone' of the lessons was a lot more casual than what we are used to in the city, which is what I think the kids needed at that time. They also LOVED having their lessons in the 'warm pool' of the hot springs – what a world of difference in their level of enthusiasm before classes – from them and me!
(Here is a little plug for Dara's Dolphins, the organizer for the swimming lessons…she was great to deal with and, also, happens to be another twin mom!  …so she gets extra 'props' in my book!  ***UPDATE 08.15.18*** Rocky Mountain Swim Lessons has since taken over the lessons being offered at the Fairmont Hot Springs Pool.  Luckily, for us, they happen to be ran by the family of the twins' FAVOURITE swim instructor of all time (keep reading to find out more about their experience with Louis)!
Darren and I decided then that summer swimming lessons, over holidays, are the way to go for our family for sure!  There are other activities we are focused on in the winter and it just makes sense to us that the kids get their lessons when they can be practicing them the most.  PLUS….I don't have to deal with winter lessons…because, well…you know.
Unfortunately, when I contacted Dara's Dolphins for lessons this year, I was surprised she was pretty much already filled up! I guess I waited too long.
#ParentFail
Apparently, Rachelle wasn't the first person to consider summer-holidaying lessons and the Fairmont Hot Springs Resort appears to be a popular place for children to learn to swim this year. Who knew?
So…we got 'crazy' and we made a little splurge in the name of 'safety' – we inquired about getting the kids into some private lessons…still through Dara's Dolphins and still at the hot springs. We normally wouldn't do something like that, but the kids have been in water so much this summer, we really wanted them developing their skills.  Especially as they get braver and want to venture into deeper water when we are out swimming.
We did end up getting some private lessons set up and we are so glad we did!
#ParentFailPaidOff
Wow – what an amazing experience!
We can't afford to always offer the kids the luxury of a dedicated instructor, but the results and enthusiasm shown by the kids was really impressive and was really worth the money! The results we saw, in one-week's time, were way beyond any other swim lessons they have taken.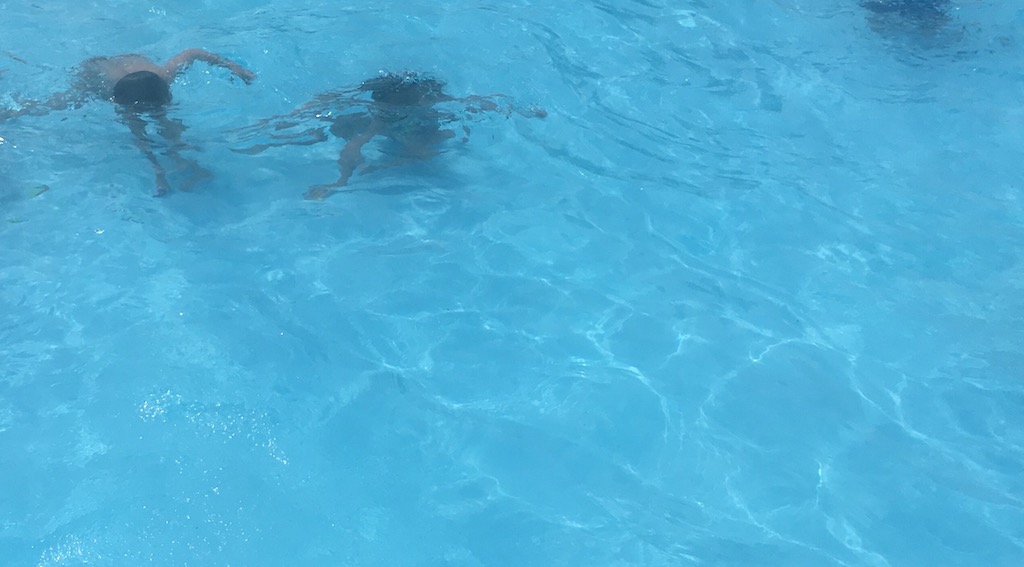 Now the kids spend more time 'under' the water than 'out' of it!  Gray on the left, Miss A on the right.
I think part of it was having the 'one on one' instruction (or should I say 'one on two' instruction?)…but we also got so lucky with a really super instructor! The kids just responded to him so well!  He was really patient but still encouraged them to push themselves and, well, he was doing something right because the kids really made a world of progress over the week.  There were times Gray was coughing and sputtering water, trying to figure out a skill, but willingly keep trying at the coaxing of his teacher .  I don't have enough good things to say about the amazing experience!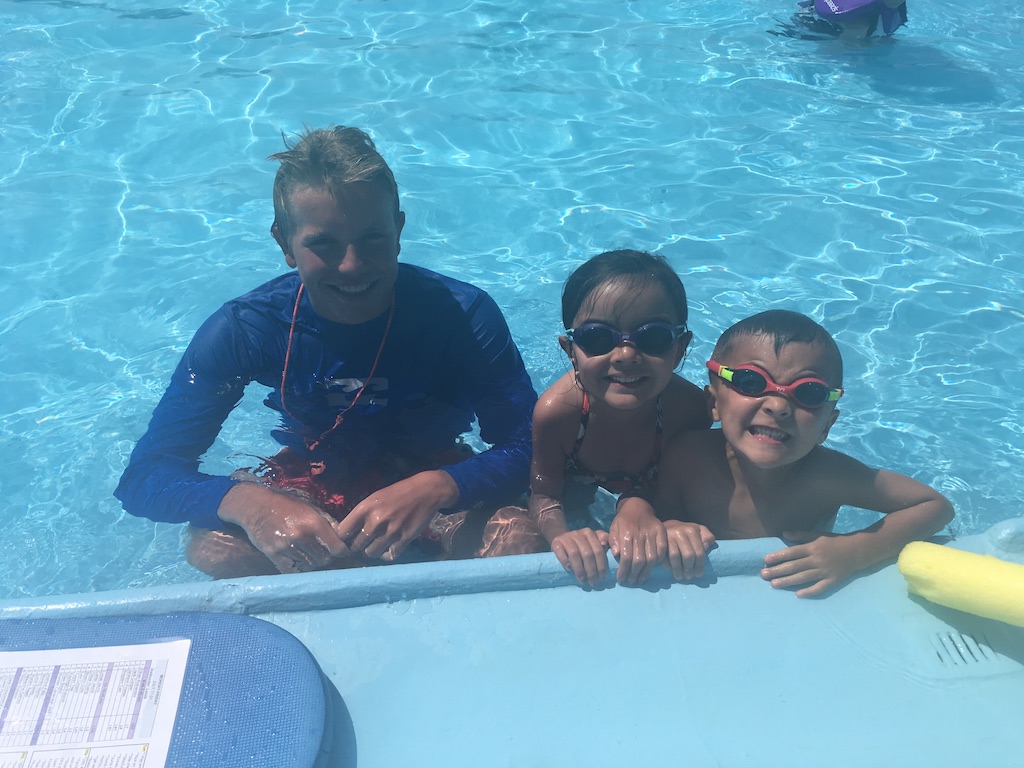 The twins with Louis, their beloved swim instructor…they LOVED him!  We will definitely look for him again!
So, I'm not saying register your kids in private lessons (or if you can, I guess I 'would' recommend it – especially if you're swimmers are trying to get over a 'hump' of some sorts)…BUT…I can't say enough about how well summer vacation lessons have worked for us for two summers now. The kids love it and I enjoy watching them…while warm…in the beautiful outdoors.
And I don't have to dry anyone's hair before we leave.
And no one has wet mittens…in minus 30 degrees celcius.
😀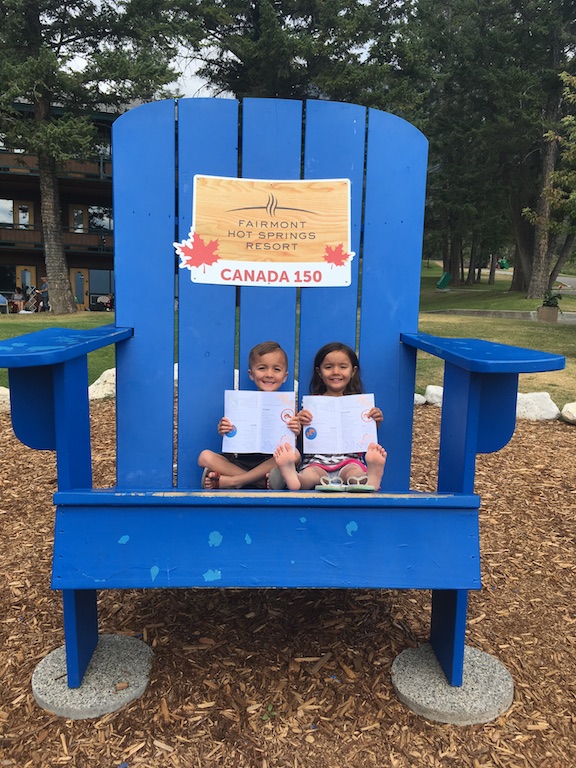 Hooray!  They passed!