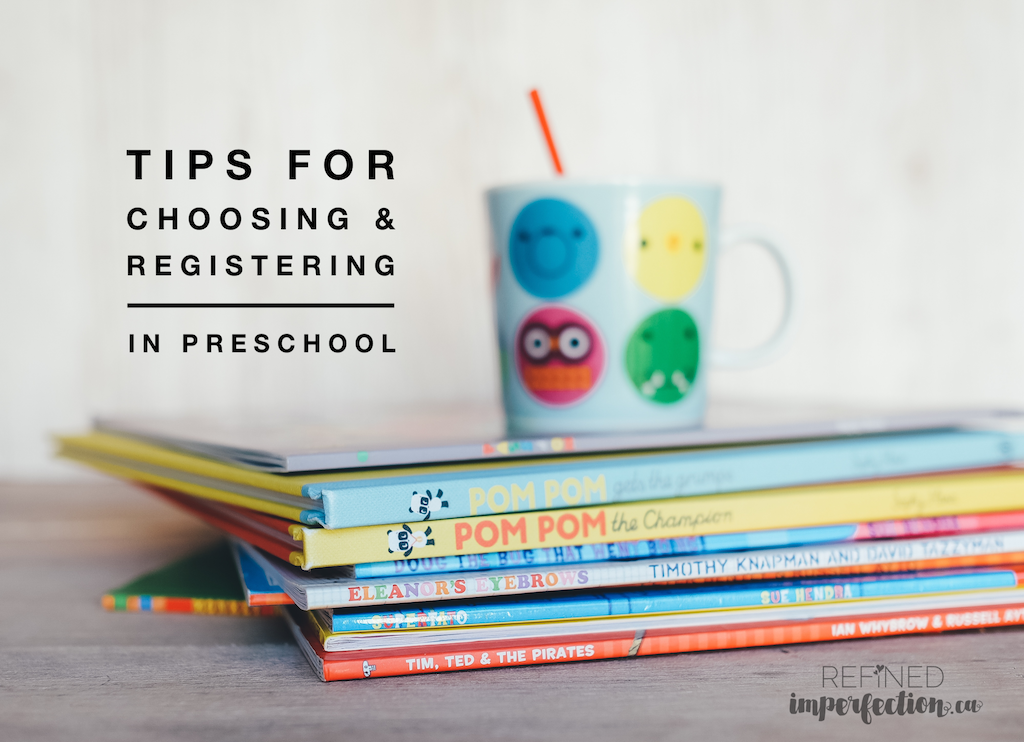 If you're anything like me, you may put a great deal of thought into most of the decisions you make and things you buy – And 'Whether or not you send your child preschool' OR 'Which preschool you choose for your child' won't be the exception.
Because I wasn't completely convinced that preschool was for our family, that was really the starting point for me. Actually, truth be known, I had decided against preschool all together for my duo – but a good friend encouraged me to reconsider our decision (based on the educational path we are hoping to take), so I gave it some more serious thought.
Really, that's the first place to start – decide whether, or not, you want your child to attend preschool.
Things to Consider When Deciding Whether or Not to Send Your Child to Preschool:
Could this be an opportunity for my child to learn to socialize? Many parents worry that their child may not be well-socialized and consider pre-school an opportunity to introduce them to other children and being in an un-parented (not to be confused with 'unsupervised') environment.
Are academics important to me at this age? Many preschools offer a component of learning. There are also 'play-based' preschools if you prefer something a little more 'casual' for your child.
Do I need child-care and might like some fringe benefits a preschool might offer (more structured play or learning)? Preschools come in part-time and full-time form and could be an option if you need full-time care but want the additional structure or learning also. They don't come without a price tag though.
Can I afford it? Without a doubt, preschool is an expense! …And if you are like us, with twins (or more), you can pretty much double the cost (sadly the 'Two for the Price of One' joke only applies to the 'conception' part of having twins).
Do I need a break? …OR… Am I willing to give up that time with my kids? Both are totally valid questions and I actually struggled both ways. I am always telling my husband I could use a break but somehow I also mourned at the thought of sending my duo to preschool (I actually wrote an entire blog post about my struggle with sending the kids to preschool on their first day, you can read it here).
…After thinking about all of these things, you may decide to pull the pin or you may decide to go forward with finding a preschool. If you decide against pre-school…that's okay! As my friend Kim has been known to say, "There is no need to keep up with the Jones'!"
If you do decide to pursue finding an appropriate preschool, here is a list of things you may keep in mind.
How to Find and Appropriate Preschool:
Get recommendations from friends and people you trust – The first step I took was asking some of my trusted friends if they liked the preschools their children attended and 'why' they liked them.
Inquire to see if the preschool is fully licensed in your area – This ensures that they are held to a certain level of accountability. If you live in the Calgary, or even Alberta area, you may inquire about the preschool being fully licensed with the Alberta Government.
Find out if the preschool is 'play-based' or 'academics-based' – you may be looking for one or the other based on your wants or your child's needs.
Understand what the teacher/student ratios look like – Obviously there is a benefit to having a lower ratio of students per teacher.
Inquire about what the teacher's qualifications are – You may find there is a broad spectrum of qualifications different teachers have at different preschools.
Ask how, and how often, the school communicates with parents – you will likely be curious to get feedback regarding your child and it's always nice to know what the school has planned for the day/week/month ahead.
What hours does the preschool operate? Some preschools run as little as a handful of hours per week and others are full-time. There are many options available out there to suit a variety of schedules!
Ask about the daily activities – What does a typical day look like? Will there be changing stations or variety offered?
Inquire about special events – Some preschools take initiative to put on special events such as Christmas or Winter Concerts, Picture Days, and Graduation Ceremony's. I wouldn't call these 'deal-breakers' but they could be a bonus if you are down to a couple of choices and looking for a deciding factor or wondering why one school may have higher fees than another.
Is there an open house you can attend? – Many preschools offer an open house at the preschool for you to attend with your child. This is a great way to see the environment and meet the teachers. You may also be invited to have a personal tour, which is usually set up by appointment. It's definitely not a good idea to just show up, expecting a tour…be sure to call ahead to see if this is available.
Find out when registration starts – You may be surprised to hear that preschool registration can begin as early as January for a school year which begins the following September.  You won't want to miss out on this important date!
Know if your preschool of choice tends to fill up – Some preschools are coveted and will fill up quickly. I remember one of my friends telling me she had experienced a line up at her preschool registration. I was totally not prepared to hear that, but I was happy to have the information.
…Good luck with your choice! It can be a difficult one to make, but hopefully you have some tools to get you started!  If you think I've missed something, please feel free to comment!