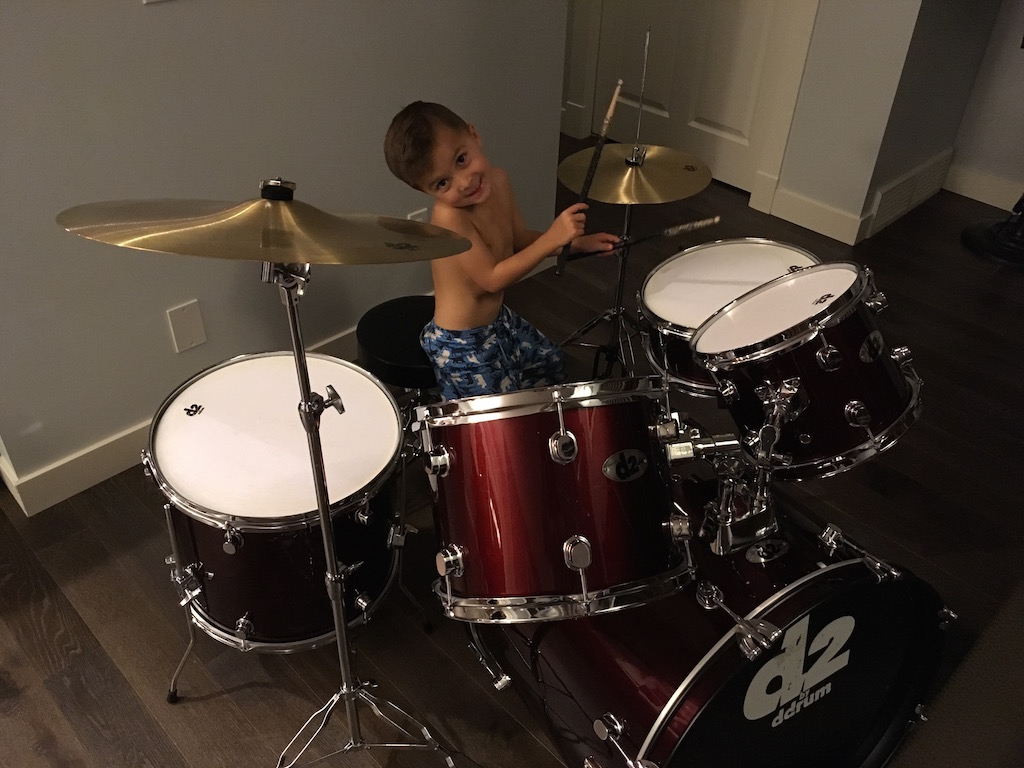 I'm not going to lie…I have seriously been feeling a little embarrassed to share the news of this recent purchase with my friends (and, honestly, also with you). After all, Gray is only 4-years old. Does he 'need' a drum kit? Have we gotten carried away?
This is how we got here…
When Gray was just a little tyke, my girlfriend, Marian, bought him a little toy drum set. He LOVED this thing and often played while singing his ABC's. He also loved to play while asking mommy to 'dance' to his beat.
What?? Nooooooo!! How?? (insert my best pow-wow dance)
There are no photos documenting this. Thank God.  But I do have a cute photo of Gray playing on his old toy drum set!  Let's think about that instead:
Eventually, this beloved toy drum kit bit the dust. It was a well-loved toy and always a fan-favourite when friends came over…so it was destined to have a limited life cycle. At the time, I wasn't 'that' sad because, really…only your girlfriend without kids would buy that loud of a toy…but, I was definitely sad for Gray. Of course, he was upset but I hoped he would get over it and move on…and, for a while, it seemed like he did.
…Until last spring.
Last spring he started asking for drums and reminiscing about how much he loved his old toy drum set. Now that he's four-years old, a little toy drum set like that would likely be too small for him so, I told him that's a very expensive item he is wanting, and maybe that's something he should ask Santa for.
He carried on into the summertime, talking about how he wanted drums and he was going to ask Santa for them. That seemed fine…the phase didn't die off and he accepted that we weren't just rushing out to buy drums. But, I did realize something. What happens if Santa brings the drums that Gray 'thinks' he wants but then loses interest?
So, I suggested to my husband perhaps we should find some little lessons for him in the fall and see how that goes before we…err…Santa…takes the plunge with the drums.
So, I put out a request into Facebook-land to see if any of my friends could recommend a music class or drum instructor…or were drum lessons for a 4-year old even a 'thing'? It turned out another twin-mama I know recommended someone great who only lives a few blocks away from us – how convenient!
Gray started lessons in September and attends once per week for 30 minutes. The teacher we found is also a mom and does a good job of keeping him on-task but also offers little breaks when he needs it to just play as he wishes…and I like that…it seems age-appropriate to me.
The good news is that Gray seems to be progressing and he hasn't shown any inkling of losing interest in drumming. By no means is he a 'gifted musician' but he really seems to be learning – and in a compound way. He regularly practices how to count (and play) different beats and patterns such as 'triplets' and 'paradiddles'.
He has also worked a little bit on drawing music notes, and he is now learning the names of the different drums in a drum kit. For fun, he gets to watch a 'Buddy Rich versus Animal-from-the-Muppets' video – and he quite enjoys that!
Since the lessons seem to be coming along, and Gray seems to be maintaining his interest in drumming, I thought Darren and I could talk about a plan for Christmas.
Me: "What do you think about Santa bringing Gray a used drum set for Christmas? I kind think it's too expensive of an item for him to get new. If you're onside, we should probably start keeping our eye on Kijiji soon here."
Keep in mind that I'm super proud here of my brainchild idea. My husband is…well…tight with money PLUS we are mostly a one-income family supporting four people. Anywhere we can save money is great! So…I'm pretty much thinking here…"I'm so smart!".
Darren: "You want to give him a used item for Christmas?"
Me: "Well, yeah! Drums are expensive!!!"
Darren: "I don't know. Would you like it if I gave you a used gift at Christmas?"
Me: "Well…that's not even the same. He won't even know – he will still be so excited to get them!".
Darren: "Does that mean you are okay getting a used gift then?"
Me: (didn't address the question…Abandon! Abandon!) "Okay, so the other option is we find a used set and chalk it up as a cost of doing an activity – just the same as we bought Miss A her ballet shoes, tap shoes, and dancewear."
Darren: "Sounds good."
And that, my friends, it exactly how we got here!
Gray's drum teacher was kind enough to send us a list of four previously owned drum sets for sale that she thought were appropriate for Gray. She also offered her opinion of what they were actually worth (versus what they were listed for). They were pretty much all selling in the $190-$250 range. She also explained what to look for and what not to worry about (I guess the 'skins' are easily and eventually replaced anyhow).
In the end, we picked up a set from some parents whose son had left for university but had had to leave the drums behind. They were asking $190 and we scored a deal of $140 – which was even better than our drum instructor suggested would be a fair price for this particular set (this is where I boast that my brain didn't turn into complete mush when I had kids and I still have some of my career 'negotiating skills' left in me – yay!).
As you can imagine, Gray is absolutely thrilled!!! I'm still a little baffled on how we went from a toy request in spring to a drum kit in his bedroom…but I guess that's sometimes how it goes.