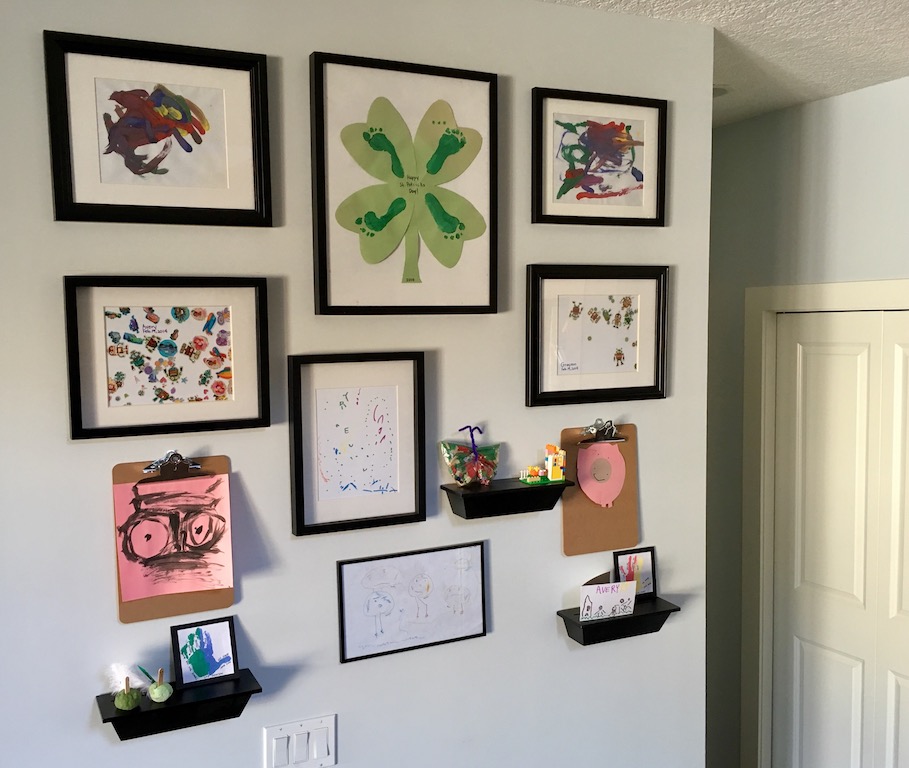 I'm sure many parents can relate to the 'problem' of having a major surplus of arts, crafts, and colouring pages around the house. Especially if you have kids in school or children who especially love to craft and colour!
In our house, the twins bring home a minimum of four crafts from preschool per week, but sometimes it's more. They are usually really well-done, and totally display-worthy pieces, but because we have the twins we happen to have double…and on top of that, Miss A is usually crafting and colouring at home almost daily.
We have A LOT of children's 'art' to display!
Don't get me wrong, it really is wonderful when our children 'create' but, honestly, what is a parent to do with all of it?
After 2-years of my husband and I 'thinking' and 'talking' about creating an Art/Gallery Wall, we finally got one together – hooray! This is a major accomplishment for us since:
I don't have a creative bone in my body (true story…I don't even have 'one').
Darren literally hates hanging pictures. I know 'hate' is a strong word, but it's the truth.  He is not an overly detailed person and the thought of putting holes in walls seems to give him some sort of 'picture-hanging-anxiety'.
So, because of those reasons, there is often procrastination in our house around stuff like this…but…somehow…we did work it out!  And here's how…
I started by searching the wonderful World Wide Web to get ideas. Of course, this led to me creating a Pinterest Board for my Art Wall Inspiration.
After I had an idea of what my vision was I started picking up miscellaneous picture frames, here and there, that would fit some of my favourite drawings and pictures that the kids had done.
My favourites included little creations such as:
The first time the twins created finger-paint pictures
A little drawing that Miss A put together while writing her name for the first time
Some cute, little 'handprint' art pictures the kids did at their day home (thanks Ange!)
A drawing of our family, by Miss A – the first time one a picture had been done by either of the kids (this fine piece of art is on the reverse-side of a restaurant paper place mat)
Once I had collected those, I ordered a couple of Westcott clipboards from Amazon.ca.
I actually order loads of stuff from Amazon simply because:
I am always able to get free shipping since they often offer it when you spend a relatively low minimum.
Their prices are in Canadian dollars.
I can do it while the twins are napping.
I can do it while drinking coffee.
The actual clipboards that you see in the art wall photo, in the beginning of this blog post, are these ones.  
They were only a few dollars each and I did get the free shipping since I also had some other stuff that I 'needed':
A book called, 'On Becoming Preschool Wise' by Gary Ezzo and Robert Bucknam – from my all time favourite series of parenting books
In a stroke of luck, my very creative and design-savy friend, Helen, suggested I also use a couple of small floating shelves that I had received from my girlfriend, Kim, when she was cleaning out and renovating her basement.
So smart, right??
So, Darren and I planned it out and put it up on a central hallway wall on our main floor and we LOVE it!!! It makes our home feel way more 'homey' and now I don't have 'art' taped all over my fridge – because that's sometimes what you have to do when you have a stainless steel fridge and magnets just don't work on it.
(As a side note, I have discovered a great alternative to tape for stainless steel fridges – you will use these up fast on your fridge, cupboards, doors and walls so you may still revert to tape, but check out these amazing Scotch Re-usable Tabs – they are 2-sided, removable, re-usable, and they are truly my favourite!!)
The clipboards add a little bit of interest and make it super easy to switch out paper crafts and the shelves house all of their 3-D crafts and lego creations. It's perfect because now these items are nicely displayed and aren't taking over my counter tops and mantle!
Yes!!!
Of course, there is still a bit of an excess of stuff being produced here, so I rotate the art and colouring often and I keep a large 11"x14" sketch pad for each child. I picked a couple of these up from our local Dollar Store for literally $2/each.  Once their time is done on the gallery wall, I mount them in the sketch books and they will be saved in their keepsake boxes once they are full.
A few items here and there might get sent to grandma and grandpa, but even they have commented about how much 'art' there is.  So, alas, the rest gets 'filed away' in the bottom of the recycling bin.
Don't tell the kids!
PS If you are interested in saving either of these ideas to your own Pinterest board, there is a handy-Pinterest social media button just below this post!   Hopefully you're better at tackling this stuff than we are.