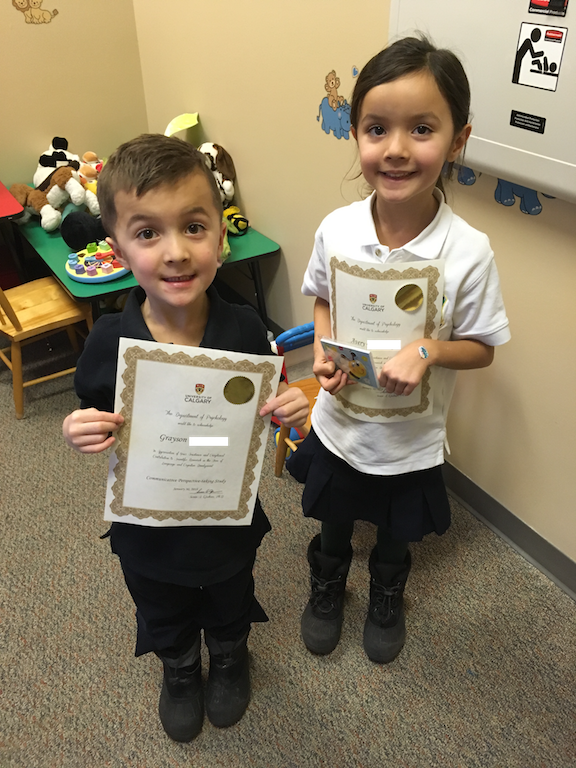 The twins with their very 'offical-looking' certificates from the University of Calgary
We are always looking for fun and interesting things to try around Calgary so, when I heard the University of Calgary was searching for 'Child Scientists', I wanted to know more!
Initially, I heard about the program from another mom of multiples. She had posted on the Facebook page of the Twins, Triplets and More Association of Calgary that the group was searching for research participants.   Another mom, who is also a part of the group, commented with feedback about how much fun her kids had had participating, so I decided to check it out!
The first thing I did was look through their website (I have included the link at the end of this post for you).
What I learned from their website, before we signed up:
These were the highlights of what I took away from their website:
-The studies are conducted at the U of C by a team (the Ch.I.L.D Research Group) who are, generally, exploring how infants and children develop language, learning, or social understanding.
-Studies are available for a wide variety of ages (infants through 14 year olds).
-Most studies only require a one-time visit to the university and lasts less than one-hour.
-In order to sign up, you complete a simple sign up form. Once a study is available, that your child is a fit for, you will be notified by email. You can accept, or decline, their invitation to participate (they send you the important details that you might consider in that email – when the study being conducted, what the time commitment is, etc.).
-The study days/times can be quite flexible and can include evenings and weekends. They also include free parking.
-If required, they will also provide a babysitting service for your other children while your 'child researcher' participates.
What happened next?
After spending some time on their website, I had the additional info I needed. I chatted with my husband and went ahead and completed the form.
Quite a bit of time went by before we were emailed about a study. Unfortunately, I couldn't make any of the days/times work out and I had to pass on that one. I wondered if they would maybe feel discouraged about contacting us again, but they did reach out again to us when another study came up.
A couple of months ago, their research coordinator emailed me about a study they were conducting for 5-year olds. She sent all of the information I needed in her initial email:
-What the study was about (how 5 year-olds develop perspective taking and communication skills)
-What the time commitment was (1.5 hours or less)
-What would be involved (playing a series of computer games while being observed i.e. where is the child looking at particular points in the game)
-When they were scheduling appointments for (there was about a 3-week window, from the time they emailed me to the cut off for appointments).
-There was a thank you being provided to children for their contribution: a t-shirt, prize and certificate
How we explained it to the kids
Before committing to the study, I did have a quick conversation with the twins (both had been invited to participate). We talked about what university is (I loosely explained it as the place you go to learn when you are an adult) and how some adults at the university had some fun computer games for kids to play, while the adults helped them. I let them know that once they were done, they would receive a t-shirt, certificate and a prize. They were both excited to try it out!
The stars were aligned and we set up a day/time to come in.
Attending the Study
Upon arrival, the research coordinator met us in the parking lot and gave us our parking pass. She then accompanied us to the lab (the parking was very close to the building and we hardly had any walking to do to get to the lab).
Once inside, I completed some forms. There was a consent form (which was quite straight forward) and some demographic information (6 questions in total). The researchers took some time to meet and chat with the kids and they showed us the three rooms we would be using:
The Playroom: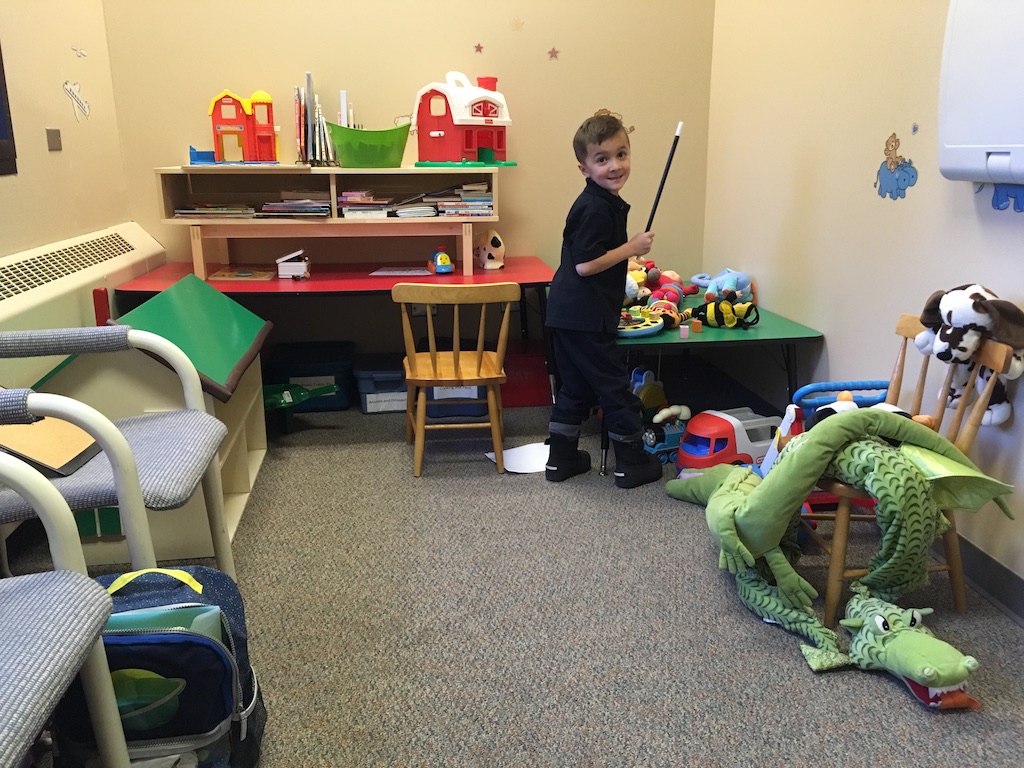 The Lab (where the study happened):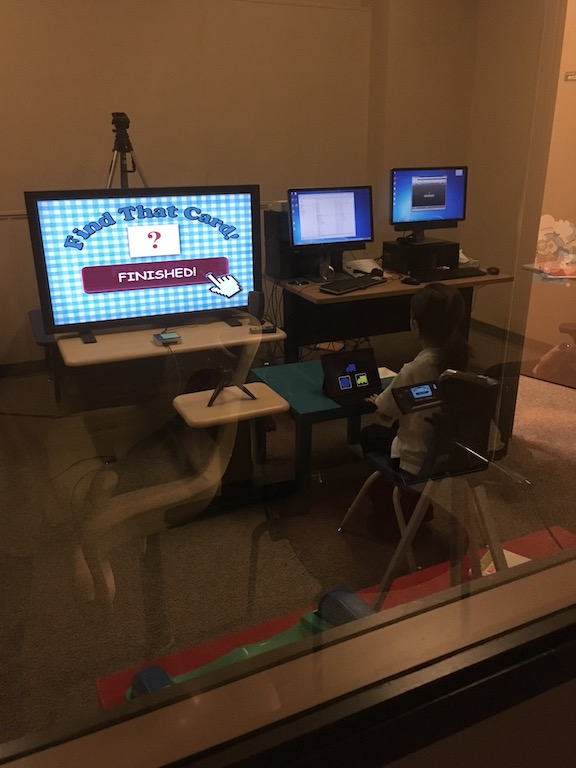 The Viewing Room: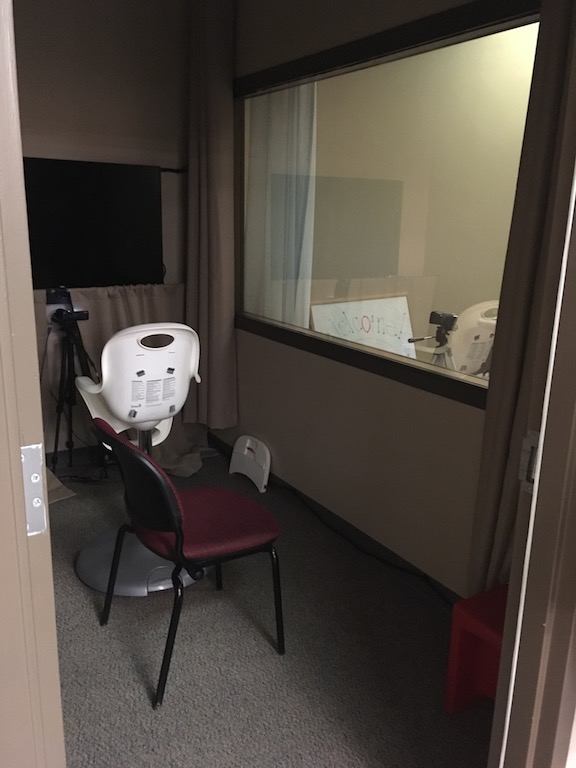 The viewing room has a 2-way window and was great to see! It put me at ease knowing I could have eyes on my kids, at all times, and it was really interesting having the ability to observe the study while it was happening (audio was played into the viewing room).
I decided to start with my more outgoing twin first, Grayson. Avery wasn't allowed to view the study at all from the viewing room, since she was participating right after him…so I took the opportunity to spend some time with her in the play room and I just checked into the viewing room periodically (they are within feet of each other, so this was very easy to do).
Once Grayson was done, Avery had her turn. I spent more time watching her study since Grayson could (quietly) be in the viewing room with me as well.
Note: they did offer me childcare, once I arrived, so I could watch the entire study…but I politely declined since I didn't feel like I 'really' needed it.
The study actually finished up before the allotted completion time and the kids were presented all of their goodies.
The goodies the kids received:
T-shirt – a variety of nice colours were given to choose from…they both chose the colour purple…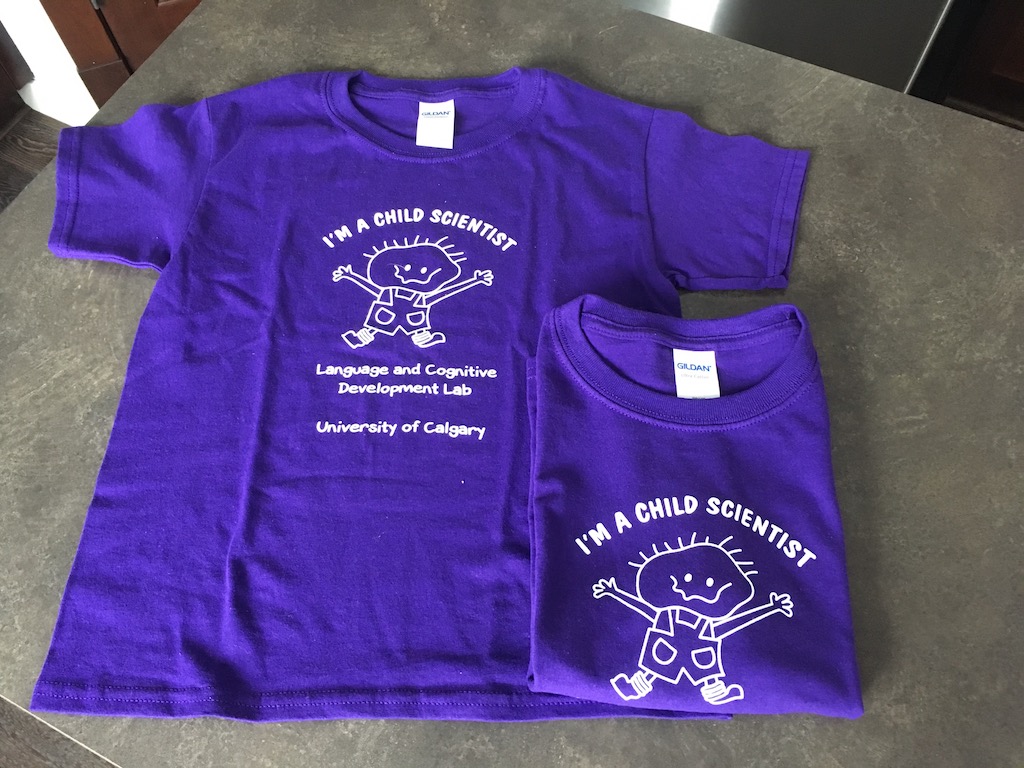 A Prize – they were simple little items, but the kids seemed happy enough to get them…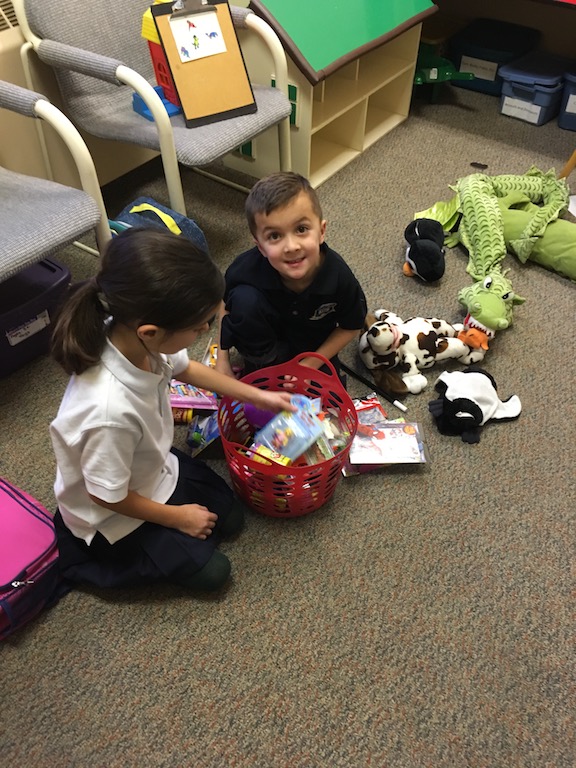 A Certificate – quite an official-looking one, I might add…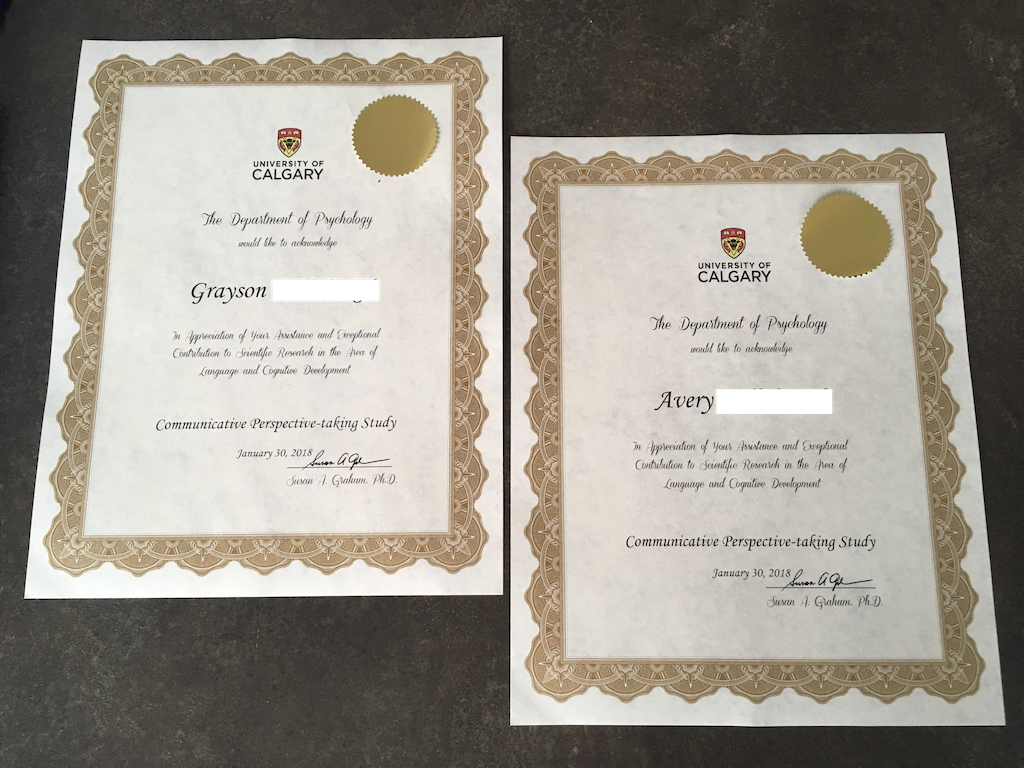 I was wondering if the kids were going to say that they felt like it was a little long (their body language seemed a little 'restless' towards the end), but they both said they enjoyed it and would do it again! They were thrilled with the simple tokens of appreciation that they received!
What I liked about it:
Of course, it was fun trying something new and interesting! The team was very kind, and accommodating.
Also, having the opportunity to support research, that benefits children, is wonderful…and so important! I loved that the kids, and I, could help in our own little way.
Something else I really loved was having the kids on the university campus…and having the conversations with them about that! As I mentioned earlier, I did loosely explain to them what 'university' is. As we drove through, the kids asked me questions about different people they saw…Is 'that' person crossing the road going to school? Is 'that' person a teacher? What kinds of things can we learn at a university?
Overall, it was a fun experience and we are all glad we participated!
Parent Tips
-Definitely have your child(ren) use the washroom before study begins – there is one nearby the lab.
-Pack some snacks and water. Having said that, if you don't get to it (or don't have time) snacks are available at a coffee stand in building. It has sandwiches, wraps, yogurt and baked goods.
How To Get Started:
As I promised, here is the website for the Ch.I.L.D Research Group: https://psychology.ucalgary.ca/child/
You can also contact them at: child@ucalgary.ca