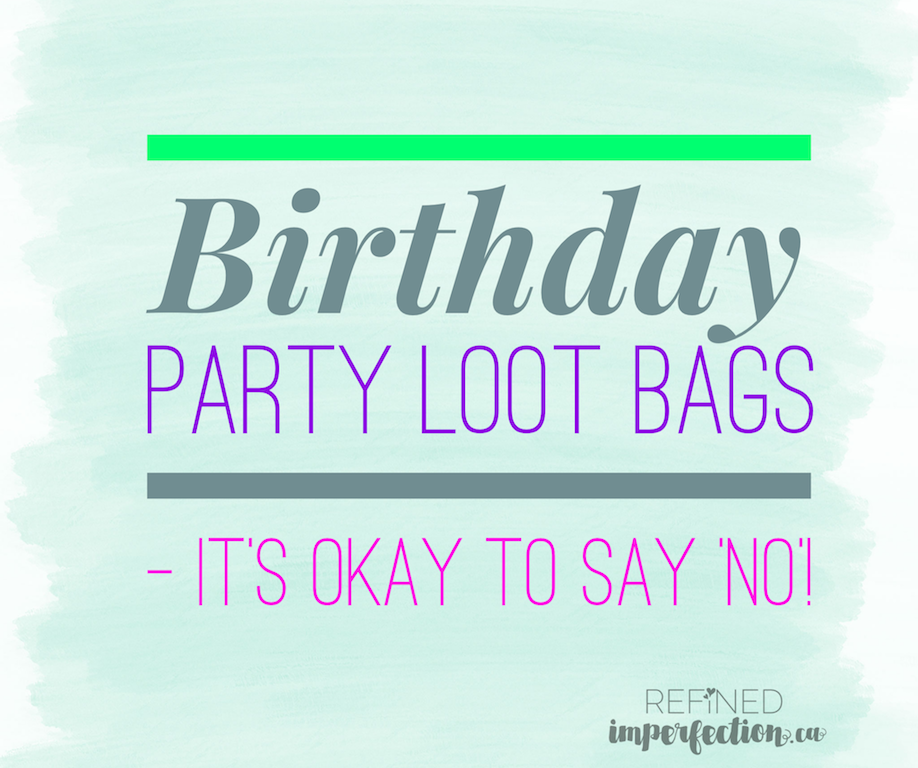 Can we talk about birthday party loot bags for a moment? I really want to know if you 'love them' or 'hate them'? Do you think it's 'taboo' not to give them out?
The twins have a birthday party coming up and, to be honest, I'm not going to be providing loot bags this year. I'm kinda feeling guilty about it…but isn't that kind of ridiculous?
The truth is that, since I went back to work (if you missed the post about this, you can find it here), I hardly have time to get out birthday party invitations in a timely fashion – let alone organizing appropriate, affordable, thoughtful loot bags. For me, affordable and thoughtful are the key points…if you have 10 kids and spend $5, or more, each…that's $50! $50, people!!! If you are spending that kind of money on loot bags, you want them to be appreciated and enjoyed, right?
I remember one of the first years I did loot bags, I was discussing them with my friend Kim. She challenged me and asked me why I was doing them – was it to 'keep up with the Jones''? It was a different perspective…it made me think about the purpose of why we do give out goody bags.
Was it about keeping up with the Jones'? Honestly, the truth was that it wasn't about that at all. I didn't feel like I 'had' to provide them to 'keep up'…I think it was really more of a cultural thing. The same way we eat cake at a birthday…there is often a loot bag given out. It felt a little more like tradition. I do remember being so excited to receive them at birthday parties when I was a child; it was fun to create the same kind of experience for the twins' little friends!
But, here is the thing. This year, after planning an 'off-site' birthday party, extending invitations, and organizing the other food and details, I just don't feel like I have the time or energy to do any more this year. On top of that, we have already spent a great deal of money on this party since it is off-site and since we have the twins (which makes our guest list a little longer). Shouldn't that be enough?
On top of this, if I'm being totally honest, I have heard various parents comment on what is an acceptable loot bag standard and I feel like this does complicate how I approach planning loot bags. I mean, now I'm trying to find something perfect…for a reasonable price…for 14 kids…but not include what I have heard to be unacceptable loot-bag fare. Gah. In case you don't know, here is a list of potentially unacceptable items:
…Dollar store 'trinkets' that break easily.
…Treats that other kids might not be permitted to eat.
…Items you may find age-appropriate but another parent doesn't
So, now take that list and try to find something everyone will enjoy. Sounds so fun, right?
(Insert my head shaking 'no' here)
Isn't a loot bag a gift? Should we really have to be so conflicted about what kind of items we 'gift' out?
Here is another point to consider…on the heels of talking about the fact that a loot bag is a 'gift'…is it 'necessary' to be gifting children for coming to a birthday party in the first place? I mean, really…please come to our party where we have entertained you, fed you cake (and maybe snacks) and now let me give you a present for coming. Are we setting the right expectation for our kids by providing these every single year?
One thing that is really important to me as a parent is to raise my kids to be gracious and thoughtful and to not act or feel entitled. A part of me worries that my kids are going to expect that they need to receive a loot bag every time they go to a birthday party. I remember a friend of mind telling me a story about how, as a single parent, she put on a birthday party for her son. At the end of the party, a child basically chastised her since she hadn't offered him a take-away. What??? Kind of horrible, right?
So…I'm not saying that I won't ever do loot bags again but I do just want to say that, once in a while, we should just give them a break. I think that should be okay.
To my mom and dad friends who take the time and effort to send these home with my child…they are definitely appreciated! …BUT…I want you to know that having my child (or children for that matter) to your party is also 'enough'.
In my opinion, it is totally okay to say 'no' to the loot bag. This year, that's exactly what I'm doing.
#SayNoToTheLootBag     #NoBirthdayLoot     #NoLootForYou