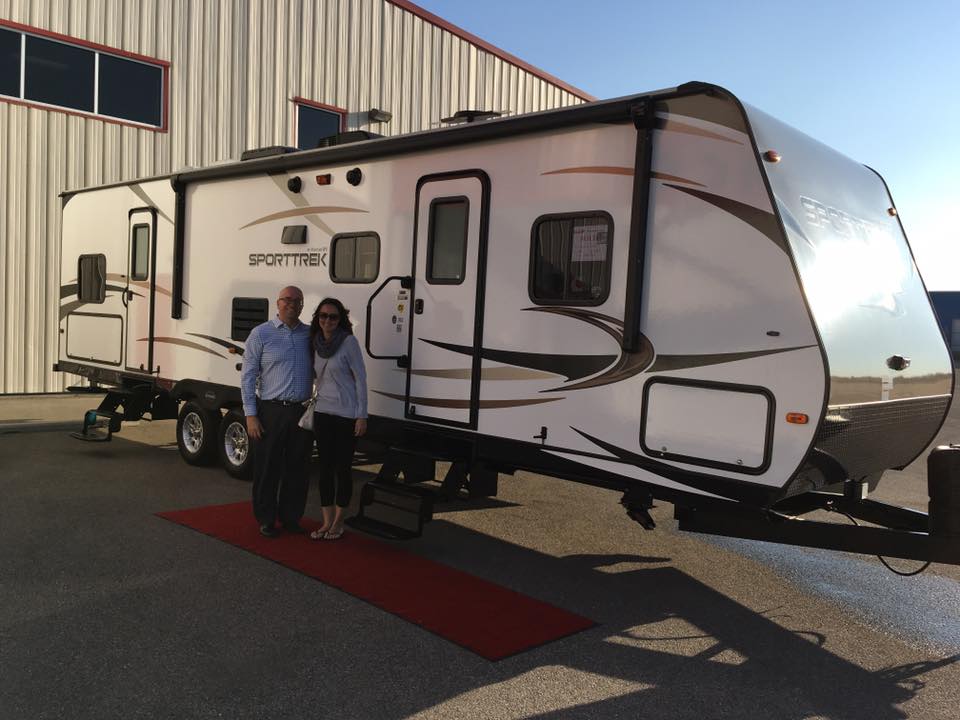 Glamping
Noun [glamp-ing]
Glamorous camping
Once she had young twins, she could no longer bring herself to 'rough it' and camp in a tent. She wanted to camp but with the same comforts as home. 
Before we had the twins, my husband and I used to enjoy the occasional summer camping trip (like, real camping…in a tent). Something about escaping from the busy city and sleeping in the fresh forest air was such a fun escape!
There were a number of times that we camped together with his cousin, whose family camped in an RV (recreation vehicle). It was so nice to be able to jump inside their travel trailer to visit or enjoy a board game if it got too chilly or started to rain (which it literally did every. single. trip.). We also really appreciated being able to use a non-public washroom. I always hated having to trek in the dark to the typically stinky, (and maybe even a little scary) common camping washroom (yes, okay, this is probably a good time to confess…I am very much what my mother-in-law – who lives in a very rural community in Saskatchewan – refers to as 'citified').
It was during that time that we first started talking about maybe looking into getting a travel trailer of our own. Unfortunately, at that time, we didn't have great RV-towing vehicles PLUS we aren't very good at making decisions about big purchases, so the thought got shelved.
Once we had the twins, we started to revisit the idea of camping again. My husband had grown up in Saskatchewan, where 'going to the lake' during the summer, in the family's fifth wheel, was a favourite family past time. He has many great childhood memories from those trips and we thought camping would be great way to create memories for our family as well!
Really, more than ever before, there was an appeal to us to have some of the comforts camping in an RV (aka Glamping): running water, heat, a little bit of space in case we get rained in, etc., etc.
So…we stopped in at our local RV dealership and wandered around from trailer to trailer. To be honest, we were a little overwhelmed with all of the various sizes, models, options, and prices that were available and we really didn't know what we wanted or needed. I finally had a brainchild that we should maybe rent one for a summer holiday to:
See if our family even likes to travel that way…and…
Get an idea about some of the features that might (or might not) be important to us.
So, last summer, when the twins were 3-years old, we rented an RV in Salmon Arm from Country Camping RV and booked a camping site at Sandy Point Campground. To be honest, the cost of the holiday was a little bit more than we wanted, but it was really worth it. The campground was waterfront with a sandy beach (and not an unreasonable drive from Calgary), the trailer was really nice and had been delivered/set up upon our arrival AND we got the experience we were hoping for. It turned out our family loved camping and we got a great 'wish list' of RV features and options started for our next RV dealership visit.
Once we had our wish list compiled, it made a great difference in our shopping experience. We decided to check out Bucars RV just north of Calgary based on a recommendation from friends. Literally, the first thing I did was present my list to the sales rep who was helping us. With this information, he was able to really narrow down the best RV's for us (which made this dealership experience way less over-whelming than our previous RV dealership visits) and after a few visits, we finally bought a travel trailer!
PS The photo in this blog post was taken of us with our Venture RV Sport Trek ST312VBHK during our 'Red Carpet Walk-through' at Bucars RV…that really happens. See the red carpet? They roll it right out! Sounds cheesy (okay, it is a little cheesy), but it was memorable, that's for sure!