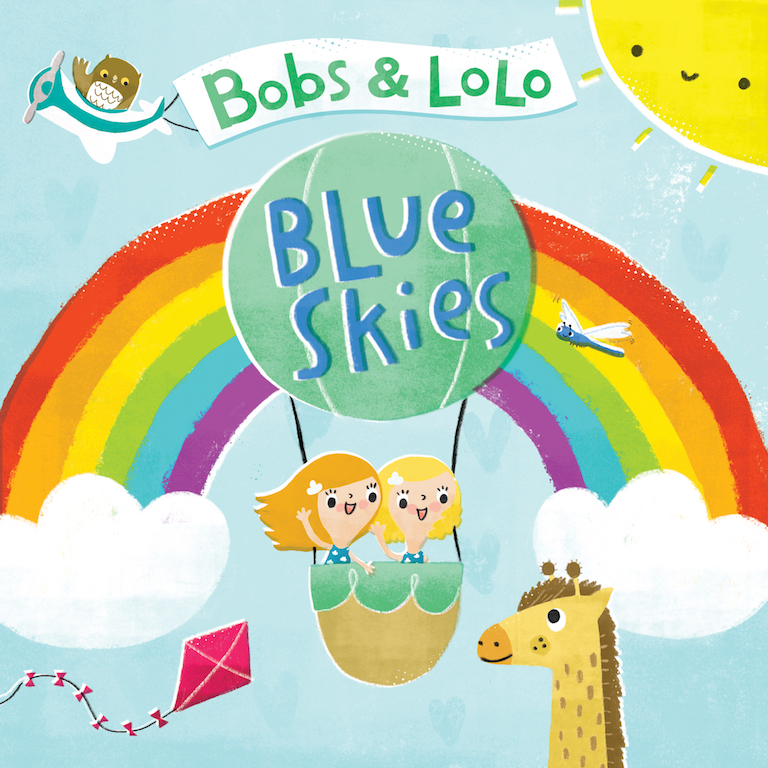 Image provided by Bobolo Productions Inc.
I was first introduced to the musical duo, Bobs & LoLo, when the twins were just toddlers. At that time, Bobs & Lolo had a joyful and musical television program called, 'Sing, Dance and Play with Bobs & LoLo' on the Treehouse channel. It was one of the few programs I felt good about letting them watch, at that time.
Since then, I have heard the 'Bobs & LoLo' name brought up, on two different occasions, by one of the finest elementary teachers I know (who also happens to be a twin mom) – Hi Ange!  It really stood out to me since I respect her, so much, both as a teacher and a parent (of multiples none the less)!
When I had the opportunity come up to review their newest music album, 2018 Juno Award nominated – Blue Skies, I knew it would be great!
A little bit of background, here…the twins received an iPad, this past Christmas, from some family. I have really been trying to be mindful about how they use it and what gets added, so they have only had a few educational apps added and they have played around with taking photos and watching Netflix on long highway trips.
But, that was then.
Now, we can add 'listening to music' to the short (yet growing) line up of things they have used it for! The kids love having their own music that they get to listen to, pretty much as often as they wish. They have enjoyed the album in the car, while playing alone in their bedrooms, while colouring at the kitchen table, and even while bathing (there happens to be a really 'fitting' bath-time song on the album, 'Scrub Scrub').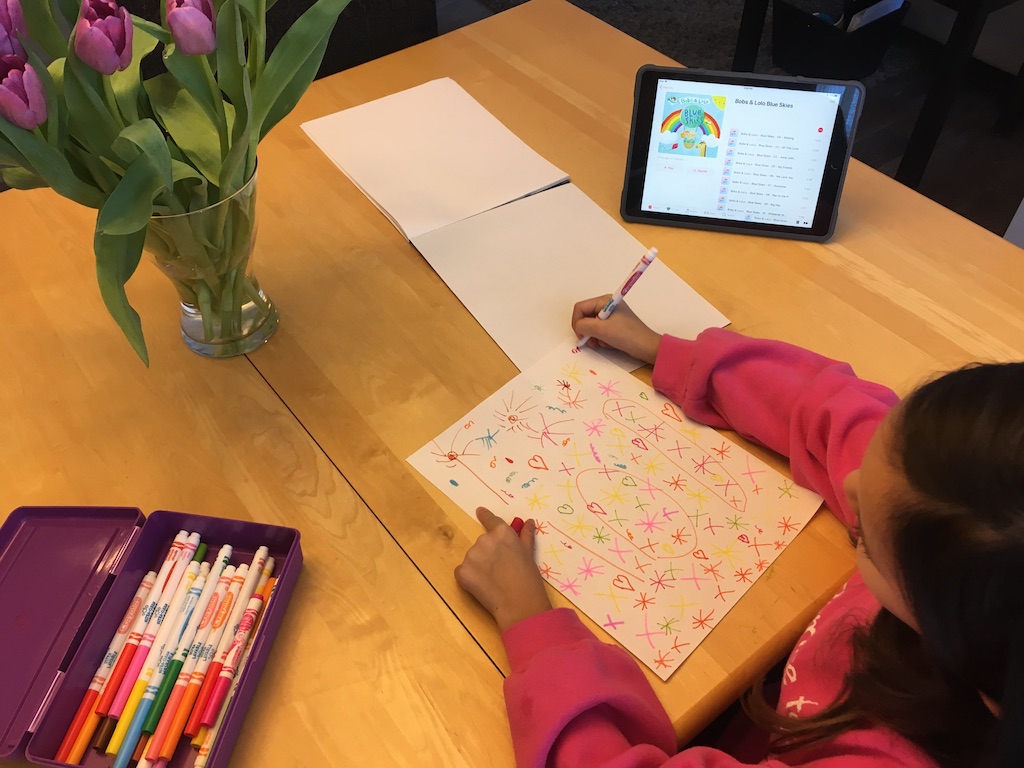 Avery enjoys colouring nearly every day, now often while listening to music.  She told me today that 'listening to music, while colouring, helps you stay in the lines'.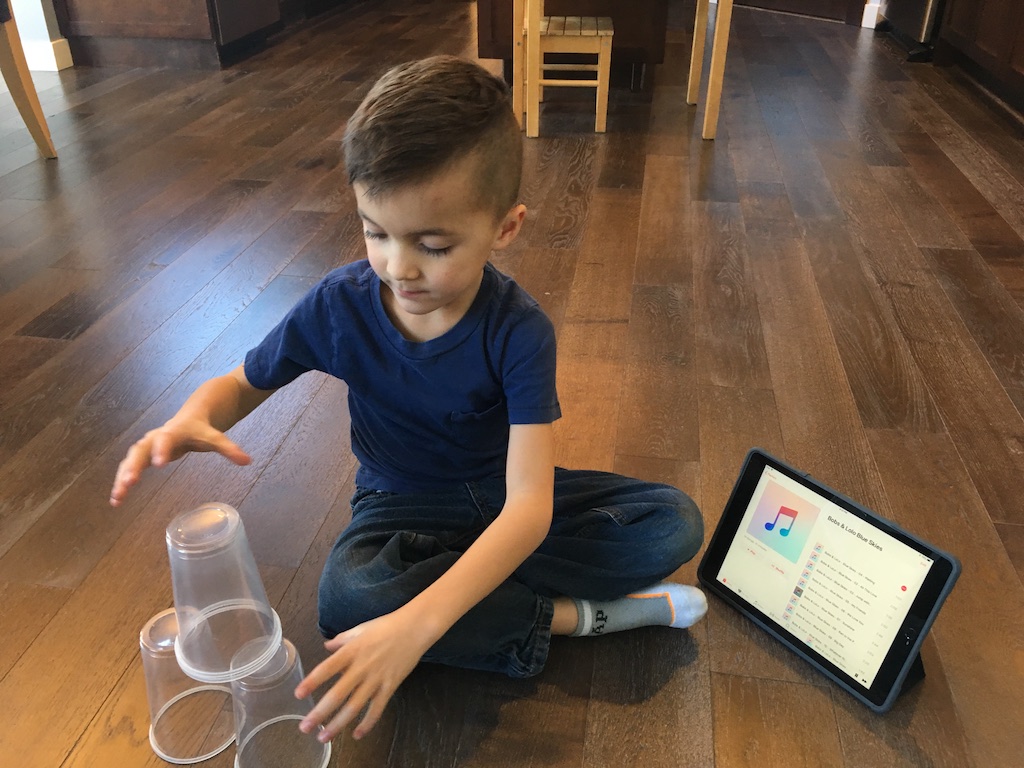 A little music to go with your cups??  Hopefully this happy music is a good distraction from the fact that these 'cups' are very 'unofficial'!  lol
The kids genuinely LOVE this album. Both of them do! And I love that they have something wonderful, innocent, and sweet to listen to. Of course the messages are great, and fun, and I have even found myself singing along in the car!
I asked Avery what her favourite song was. At first, she insisted that she loves all of the songs, but of course I was looking for her favourite. After a little pressing, she told me that she loves track number eight, 'Ran to the Park'. When I asked her 'why', she told me it's because it makes her feel happy (I loved this!) and she likes how the song goes from quick to slow and then quick again (aka it changes tempo mid-way through the song). She rounded out the comment by telling me, again, that she likes all of the songs.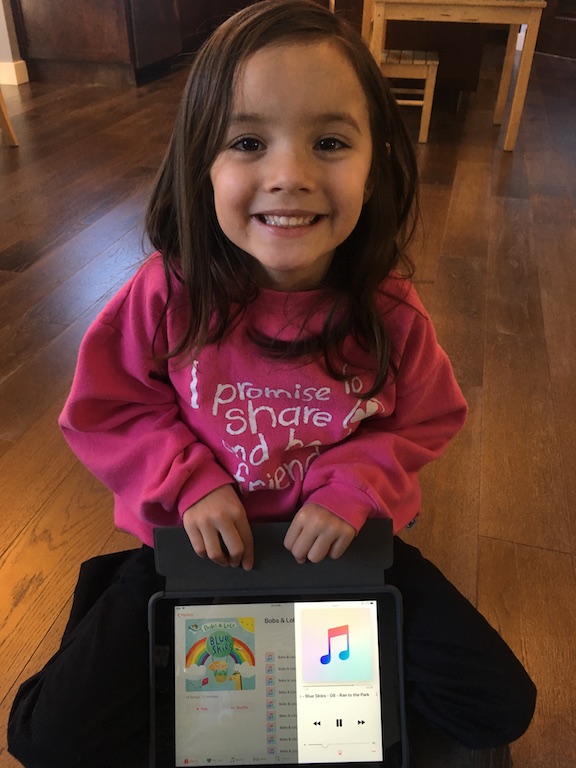 Avery and her favourite song, from the Blue Skies album, 'Ran to the Park'.
Grayson, on the other hand, was quite a bit more decisive. He really likes the song, 'Scrub Scrub' and, in his case, it's all about the chorus! I actually could have predicted this, before I asked him though, because I hear him singing it quite often to himself (and sometimes with his sister).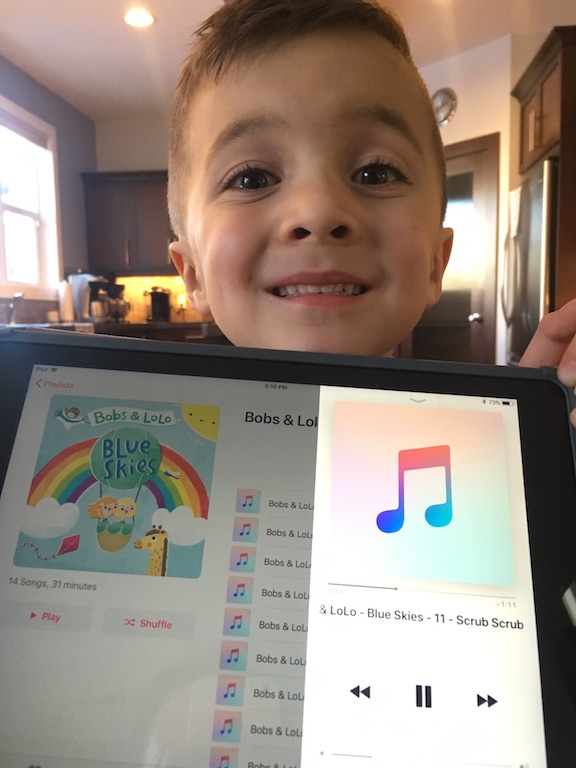 Grayson really likes, 'Scrub Scrub' from the album.  He REALLY wanted me to take a video showing him dancing to this song, instead, but…it was a hard 'no' so here's a photo of his smiling face instead!
Honestly, we love this sweet, little album! The kids have really been enjoying it, and I really like that they are listening to something age-appropriate, that they love! The fact that Avery has told me she feels 'happy' when she is listening to it makes me feel like I am somehow improving her childhood, just a little bit, by giving her this gift of these songs. I have a hard copy of the album in my car and a digital copy on their iPad and I can tell you they are, already, very well loved!
If you're interested in getting your own copy of Bobs & LoLo's Blue Skies, you can stream it on Spotify or purchase it on iTunes or GooglePlay.
Parent Tip: You can sneak a preview listen of Blue Skies AND catch a FREE download of one of the album's songs here!
Disclosure: I was provided with the music for this review however, as always though, all thoughts and opinions are my own.